Sustainable Materials Shine at Dubai Design Week
Dubai Design Week returned for its eighth edition this month, gathering regional and international talent at the D3 Design District. Coinciding with the first week of COP27, the event fittingly showcased a range of innovative sustainable materials, such as sea bricks and even desert sand-based concrete! Here is what CEO of the digit group, inc., Paul Doherty, had to say about the event.
"So, here's the thing. I just got back from Dubai about 24 hours ago and I'm a little jet lagged. But while I was there, there was the Dubai Design Week going on, all focused in on sustainability. What was interesting was the materials and the sustainable focus on the materials rather than just, you know, saying that it's sustainable about power or water, which was quite refreshing.
They're using and reusing things like shellfish, casings, where after you eat the shellfish, what do you do with all the lobsters and muscles and all that stuff? They're creating good materials with it, including fishing nets, which are very, very contextual to Dubai, being a big fishing and trading port.
But what I found just a little curious was the staging of it. It almost seemed inauthentic. It was nice that they contextualized it, but I wish it was in more of an environment where you could actually see it in practice rather than being staged. Maybe that's just me, but I applaud the effort of continuing to refocus a lot of energy into the sustainable world.
Although when I went to architecture school, that was just called good design. But so be it."
Latest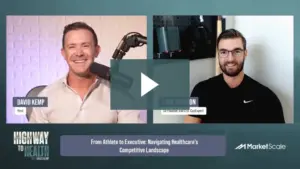 September 28, 2023
Navigating healthcare's competitive landscape requires innovative solutions addressing care quality and affordability. CapExpert is a game-changer in outpatient healthcare. It enhances asset management, ensuring the best care for patients. Luke Johnson, Co-Founder and CEO of CapExpert, spoke with Highway to Health's David Kemp on how CapExpert enhances asset management, bridging visibility gaps and streamlining […]
Read More