Tech-Forward AEC Companies Rise to the Top Amidst 2023 Project Backlogs
The pandemic halted architecture, engineering, and construction (AEC) industry products, and now the backlog is catching up, reaching its peak level since pre-pandemic. Companies are having to navigate the rising demand with challenges such as inflation, talent retention, and supply chain issues. Unanet's 2022-2023 AEC Inspire Report provided some insight as to what firms and companies ahead of the game are doing to stay on top. In turns out, being a tech-forward AEC company is proving to be the metric for who's weather the storm and who's buckling.
What are the trends and actions that are creating better outcomes for some firms? According to Unanet's report, so-called "tech -forward" firms that use tactics such as integrated business apps and data-driven strategies are trumping "tech-static" firms in key areas such as profitability, recruitment and retention, and capture rates. Companies that can leverage hybrid and remote work while sustaining high productivity are also faring better than those who struggle with this.
Are there any other tools that tech-forward AEC firms are pivoting toward to navigate project backlogs as well as economic and staffing challenges? Lucas Hayden, director of product marketing at Unanet, shares his thoughts on the recent AEC Inspire Report and how AEC companies should adapt their technology integration in the future.
Lucas Hayden's Thoughts:
"As accustomed as engineering and construction firms are to doing business in volatile market conditions, the circumstances they're having to navigate today present both unprecedented challenges and unprecedented opportunities. For many firms, project pipelines are full and new work is plentiful with more likely coming as a result of pent-up demand from the pandemic and the coming surge in government infrastructure spending.
But that good news is tempered by rising interest rates, inflation, ongoing supply chain issues, labor shortages, and other uncertainties that could cause the economy to weaken. Especially in turbulent times like these, benchmarking provides engineering and construction teams with the perspective, grounding, and context they need to focus on what really matters moving forward.
Unanet's recent AEC Inspire Report draws from insights and data shared by close to 400 firms in the industry from July through September of 2022. Our findings are intended to help construction and engineering firms understand exactly where they stand competitively, culturally, and financially compared to their peers.
Our survey data reveals how firms are monitoring and managing their pipelines, how much visibility they have into ongoing projects, and the metrics they're using or wish they were using to track project outcomes.
Some key takeaways for construction and engineering firms include that more than one third of the firms we spoke to don't know if their projects are completing on time or on budget. 25 percent say they lack visibility into project status and timely insights they need to manage their projects more efficiently and profitably.
And 52 percent report forecasting as their biggest project management challenge as they work to plan for project costs, schedules, and resources. In fact, more than one-third AEC firms are flying blind without insight into whether their projects are on track toward a successful completion.
Most firms are most concerned with data that reveals project revenue, project percent complete, and project profitability. Additionally, important metrics include burn rate, which indicates how quickly you can get through work and earn value metrics to help understand how a project is tracking against the contract, budget, or schedule.
What is also clear is that firms want to better understand what they can bill amidst downward pressure on bill rates and rising employee costs. Those rising employee costs are evidence of the fierce competition in hiring and retention, and firms are prioritizing resource management as a result.
So, what tools will help? Now is the time for firms to put a finer point on business development processes. So instead of capturing just any new business, they can capture the right new business.
Market intelligence tools are an untapped resource for generating new opportunities. These tools can help give you a competitive edge in discovering upcoming projects in emerging markets.
Likewise, CRM platforms also help proactively measure key performance indicators like win rate and capture rate. So instead of pursuing any new business, firms that closely monitor both the quantity and the quality of their pursuits benefit from winning more of the right kind of business, the kind of business that produces more profitable outcomes and high customer satisfaction leading to repeat work and sustainable growth.
CRMs such as Unanet CRM for AEC gives firms a real edge in cultivating new clients and sustaining long-lasting client relationships."
Article written by Cara Schildmeyer
Latest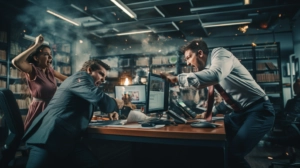 September 22, 2023
The kind of news that is delivered everyday serves as a grim reminder of the escalating violence across the U.S. Evidently, the need for proactive measures to ensure safety has never been more pressing. Such violence is not limited to any particular locale. It's actually permeating in so many different areas once considered […]
Read More