Job Opportunities in Construction are Rising. What Can the Industry Do to Fill Them?
The number of job opportunities in construction are rising steadily. In what is being seen as a monthly trend, 25,000 new jobs were added in January 2023 alone. This data, released by the Bureau of Labor Statistics, also showed that total employment in this industry rose by nearly 300,000 between January 2022 and January 2023.
Thanks to a large number of commercial projects, 40 states added construction jobs last year according to analysis of federal data by the Associated General Contractors of America. Among these, California was at the top; with over 40,000 openings, it beat Florida (25,500) and Texas (18,300) by a significant margin. That said, construction job opportunities did fall in several states. Construction jobs in New Jersey, for example, fell by nearly 6%.
On the whole, though, demand for construction labor has remained strong to kick off 2023. But while hourly pay for employees in production and nonsupervisory roles rose from $31.44 in January 2022 to $33.38 a year later, companies found it difficult to fill those roles. The consequences can domino in compounding ways; experts believe a labor shortage could raise labor and materials prices, lengthen delivery timelines, and even cause projects to be scrapped entirely.
James Golden, founder and CEO of the Pavement Management Group, which helps consultancies and public agencies improve roadway conditions, gave his thoughts on the rising job opportunities in construction.
James' Thoughts:
"Four out of five states actually added construction jobs in 2022, which is very exciting for the growth of a lot of different industries. In my field, if you will, in the infrastructure realm, road construction and things along those lines, [this is] very important.
We saw the growth there. We're also seeing that growth coming in 2023. We expect that to remain very strong. The challenge that we're seeing is keeping up with the demand in terms of the skilled workforce. It's no secret that while growth is on the rise and will be strong for 2023, the challenge for a lot of companies is getting quality employees in those positions, filling those positions because of the shortage.
How are we going to combat that? It all boils down to maybe some incentives, some more training, some more job sharing opportunities. You know what we know, the skilled trades market [has] very lucrative jobs out there, but we've also been seeing more and more [reliance on] college education versus going to the skilled training opportunities.
I, for one, coming out of the skilled trades way back in the day, saw the opportunities to get in, get a job, learn, become an apprentice, for example, and work my way through that. We need to get that message back out – that we need more incentives, we need more training opportunities available. We also have to understand that technology plays a role here, for example.
We've got to be pairing up the education in the skilled trades with the new technologies coming in the marketplace. Now, this problem is not going to be solved overnight, but we need our leaders to step up and realize that these are real problems that need to be solved and start developing these solutions for training, recruiting, and things along those lines."
Latest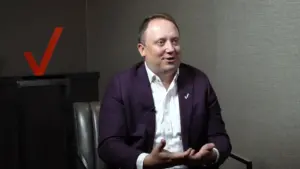 December 1, 2023
For a special episode of The Verizon Partner Network the focus was on the considerable role of partnerships in the Verizon Partner Program and the leaders shared their perspectives on the initiative. Their conversation brought about a lot of thought-providing context on the evolving telecommunications landscape. In today's era, collaboration and integration are key to […]
Read More