A Simple Way to Protect Homeowners Against Extreme Weather with Scott McDonald of F-Wave
Recent extreme weather events like the California wildfires, Colorado hail storms, and Hurricane Florence have put homeowners in a more proactive mindset. How can their home design help prepare for unexpected natural disasters? Today's episode explores the importance of roofing for the consumer; not just aesthetically, but safety-wise as well. We sat down with Scott McDonald, President & CEO at F-Wave, to break down how something as simple as roofing shingles can help offer protection for heavy weather disasters. We take a deep dive through recent roofing trends, and pin point the advances in roofing that could ultimately help protect homes in the long run. We also discuss the balance between a roof's aesthetic vs. protection, and look specifically at what a homeowner should consider when thinking about protective roofing. "We think when a homeowner is selecting their roofing material, they're living inside of a triangle, where they're balancing price, aesthetics, and the projected performance," McDonald said.
HIGHLIGHTS FROM THE EPISODE
Scott McDonald: It's been a storm field year thus far. You know, everything from tropical storms to some thunderstorms with some straight line winds to a lot of hail, we're located in Texas and this is North Texas for sure is in the Hail Belt and then up into Oklahoma and Colorado. Those communities have just been hammered with some really nasty hailstorms this summer. And then you said, fires out in the California which people don't always connect fires with roofing, but we connected that by being a class-A rated.
Josh Fisher: What sort of products are you guys creating that are kind of helping with these wildfires and this extreme weather?
SM: Yeah. Well, you know, we've had a singular focus since day one and that is to create the best roofing product ever, period, as we like to say. And we think that involves a couple of things. One is that it has to be designed to thrive and survive on the roof. The trend today is away from performance and more towards what we call window dressing and that's fancy colors and sizzling warranties, but we've developed and we sell products that truly perform. So they're class-A fire rated which is important to you if you're in California for sure. And they perform in high winds so much so that we offer our basic synthetic roofing shingle products, the Revia line, a 130-mile an hour wind warranty, and they're hail resistant, up to two-inch hail which is Class 4 hail which is kind of how the industry talks about it. So if you're a homeowner, it doesn't matter what part of the country you live, we've got you covered from a performance standpoint.
JF: Well, that sounds great. Do you feel like there is a disparage between design and actual functionality?
SM: There is, for sure. I've been in and around the roofing industry for a long time and participated in my fair share of asphalt shingles over the years and what's really going out in the industry is the asphalt shingle is diminishing in terms of performance. We see asphalt shingles that are impact rated being replaced all the time when they're only a couple of years old because hail knocks the granules off which are what provide the UV protection and mess them aesthetically and they just aren't built to perform anymore. And I think the pressures of competition and the pressure for margins is causing products to be cheapened if you will. I'm not trying to disparage anybody, but it's just what we see in terms of performance. Our focus has been to introduce products that are designed to, as I said, thrive and survive installed on the roof whether it'd be high wind or hail or whatever.
JF: Definitely. So when you're talking to customers and working with them or just seeing trends in what customers are buying, do you feel like they understand the importance of roofing and what do you think things are overlooked?
SM: Yes and no. It's a little bit depends on what part of the country you're in. If you're in Colorado on the front range or you're in North Texas and you're on your third or fourth roof in the last 10 years, you definitely understand the value of performance versus not. In a minute, maybe we'll talk about some of the trends that we see, but these folks they're dealing with an insurance landscape that is changing and wanting them to contribute more and more dollars towards their roof. So these homeowners are becoming much more educated about the value of having a high performing material that's designed to last on their roof.
JF: So let's go into those trends because I do find those fascinating. What sort of trends are you seeing?
SM: Well, what we're seeing on the insurance side of the equation is that the industry is taking some pretty big losses due to wind and hail peril over the last few years so much so that we believe there is groundswell to relook at these provisions and these writers and what it's all going to head up to is that homeowners are going to pay more to replace their roof. So whereas in the past, you could probably get a new roof with little out of pocket other than maybe a skinny deductible. I think the future is highly deductibles and the replacement cost is going to be based on actual cost value, meaning that you won't get credit on the replacement for the life of the roof you've already enjoyed, which means bigger checks being written by homeowners which we think and what we're seeing means that they are paying more attention to what is the installed performance is going to be. Is the product really designed to withstand high wind and hail and fire and all of the things that typically cause a roof to get damaged and be replaced?
JF: Yeah, for sure. I can just see in terms of customers, I mean I'm sure the price point first and foremost is what people look for, but there really is, I mean especially in these extreme wind and extreme weather condition areas, there really is more factors to look at.
SM: Yeah, for sure. You know price is always important. We think when a homeowner is selecting their roofing material, they're living inside of a bit of a triangle where they're balancing price, aesthetics, what does it look like, what do want it to look like, and the projected performance and trying to make the best decision for them.
JF: Of course. How do you feel like roofing technology has advanced to cope with these worldly problems?
SM: Well, not very well at all. I mean, that's part of why we adjust in what our quest is. We feel like performance has been taken out of steep slope roofing except for at the very high end. I'm talking about slate and premium metals and things like that. And the homeowners getting a raw deal where they're just being sold sizzle in many cases and we want to be part of the solution to that problem.
For the latest news, videos, and podcasts in the Building Management Industry, be sure to subscribe to our industry publication.
Follow us on social media for the latest updates in B2B!
Twitter – @BuildingMKSL
Facebook – facebook.com/marketscale
LinkedIn – linkedin.com/company/marketscale
Latest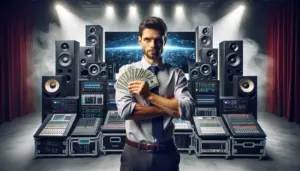 December 8, 2023
Mastering AV sales strategies in a global professional audio-visual (Pro AV) market, poised to reach $79.2 billion by 2028, requires much attention to detail. The surge in demand from corporate, government, and institutional sectors, driven by the need for enhanced productivity and efficient working environments, gives AV sales pros a lot of opportunity. In […]
Read More