AI and Deep Learning in the Threat Landscape: What We Learned at GSX
Forecasting Risk
Risks are multiplying today and with the world being so interconnected, the digital environment offers myriad ways in which bad actors can impact businesses. Not only do organizations have to deal with cyber-attacks, there are also threats related to physical locations where their employees are located.
At the 2018 Global Security Exchange (2018) in Las Vegas, Nev., MarketScale had the opportunity to chat with several thought leaders in the security space about known and emerging security hazards.
The Threat Landscape Is Evolving
Decades ago, threats were predictable. Now, they come from many different areas and leave businesses exposed to many risks. It is the nature of doing business in a digital world. As soon as one danger is eliminated, several more pop up in its place.
"There are a variety of threats that businesses have to worry about. With so much information coming in, there has to be a way to manage and make sense of it as it relates to risk. It becomes an analytical narrative that connects with so many other parts of the threat landscape," Scott Steward, Vice President of Tactical Analysis for Stratfor, said.
"Threat analysis is now about what has happened and what is happening. Then deep learning and AI can predict future risks," Scott said. "The tricky thing about AI is that it does allow us to leverage technology and be a great tool. However, it can also be a tool for criminal and threat actors. So, companies have to be prepared for that as well."
While the technical parts of the threat landscape are a large part of the conversation, Scott cautioned against believing it is the only type of threat.
"There is also the human factor of threat occurrence, as many cyber attacks are actually engaged through phishing. So, there is a human element to letting the threat into a business," he said.
What's Trending in Threats and Risks
More and more, companies are looking for an end-to-end solution for risk analysis. This was the consensus of Cal Pratt, Managing Director, and Brad Pupello, Director of Strategic Operations, at ANVIL Group.
"The demand now is definitely for a one-stop-shop. There is now a much more holistic view to threats and risks," Pratt said.
Along with the demand for a full-service approach, other trends include how data becomes the catalyst for identifying emerging threats.
"Emerging threats are more diverse than what you'll find on 24-hour news. There is a point of data saturation, and we're there. It's what you do with the data that matters. How does that data become intelligence? That's where AI and deep learning play the part. Analysis and prediction allow companies to be proactive rather than reactive," Pupello said.
"A trend that is beginning to appear is for companies to stop looking at security as just a cost or an expense of doing business. They now see it as an investment in their business and their employees. It's an unpredictable world, threats are real, and the companies that choose to invest in security will be better served," Pratt said.
For the type of threat analysis that ANVIL provides, real-time information is critical. They are analyzing threats in specific locations where employees may travel.
"Our platform depends on AI to refine data into intelligence so that we can inform our clients in real-time of possible threats and be ready to respond. There's usually no time to delay," Pupello stated.
There is no question the impact of AI and machine learning can have on the security landscape. In a data-fueled world, these become the tools in which to discover what a threat is and how to counter it. GSX was a truly immersive learning experience for security professionals.
For the latest news, videos, and podcasts in the Building Management Industry, be sure to subscribe to our industry publication.
Follow us on social media for the latest updates in B2B!
Twitter – @BuildingMKSL
Facebook – facebook.com/marketscale
LinkedIn – linkedin.com/company/marketscale
Latest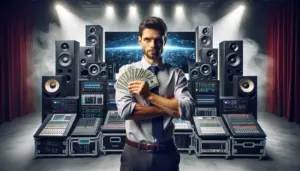 December 8, 2023
Mastering AV sales strategies in a global professional audio-visual (Pro AV) market, poised to reach $79.2 billion by 2028, requires much attention to detail. The surge in demand from corporate, government, and institutional sectors, driven by the need for enhanced productivity and efficient working environments, gives AV sales pros a lot of opportunity. In […]
Read More