How To Avoid A Car Wash Catastrophe
The Car Wash and Auto Detailing industry is already worth over $11 billion, and that number is expected to increase over the next 5 years.[1] The highly fragmented nature of the playing field makes it an ideal investment opportunity for a variety of savvy investors. The right location, strategy, and execution can create one, or a string of, successful small businesses that generate large amounts of passive income. Just like every opportunity, these rewards do not come without risk though.
Car wash locations are marked as special use buildings which can make liquidity difficult. There is also the risk of over-investing in resources and inventory. What many first-time owners fail to understand is just how complicated opening a new location can be. The best operator on earth can't fix a business in the wrong place.
There are several factors that can determine the success or failure of a car wash before the first customer ever arrives. The best way to mitigate risk is with a solid plan. In this post, we'll cover some of the most common and vital areas of risk and what steps can be taken to avoid pitfalls.
The first step in creating a successful car wash is developing a nuanced understanding of the different available models. Will the location be full-service? Flex and exterior? Some models, like the exterior wash, will generate an increased competition for optimal sites. The answer to these questions will be extremely important for determining the class and quality of a location.
After deciding on an appropriate model that fits your investment profile and risk tolerance, it is important to map out how you will select your location. Start by weighing initial costs with expected returns, but create SMART (Specific, Measurable, Attainable, Realistic, Time-Based) goals to reduce the potential for over-extending and inviting potential catastrophes. Experienced industry professionals who have successfully opened and managed several locations often utilize well-funded real estate teams to analyze the viability of all new locations.
The next step is pricing out equipment and supplies. Be careful to take information from manufactures with a grain of salt. They will make money even if your location fails. Brokers want to maximize the sale or lease rate. Everybody has their own best interest at heart and might encourage you to open a non-viable location.
It is important to remember that success in the car wash industry is a mix of smart location and operational know-how. Consulting with experts can reduce the risks of overbuilding and poor design.
At IRON FOX, we help you avoid risk with complete and sophisticated volume analytics to help you make the best investment decisions. At the start of planning, we offer a free preliminary site inspection and analysis. Our many years of experience in retail site selection for carwash operations as well as operational knowledge allow us to assist you in decision-making to set your business up for success.
Read more at ironfox.co
Learn more about how IRON FOX can help you avoid risk in your next carwash venture.
[1] https://www.ibisworld.com/industry-trends/market-research-reports/other-services-except-public-administration/repair-maintenance/car-wash-auto-detailing.html
Latest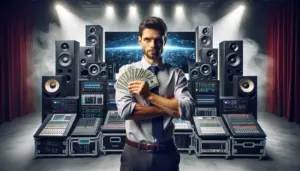 December 8, 2023
Mastering AV sales strategies in a global professional audio-visual (Pro AV) market, poised to reach $79.2 billion by 2028, requires much attention to detail. The surge in demand from corporate, government, and institutional sectors, driven by the need for enhanced productivity and efficient working environments, gives AV sales pros a lot of opportunity. In […]
Read More