Bridging the US Manufacturing Skills Gap with Automation
The U.S. is experiencing a manufacturing skills gap shortage caused by a resistance on behalf of members of the millennials and Gen Z generations to pursue education in manufacturing skills.
In many cases, high schools are no longer providing opportunities for students to learn these skills. In our recent history, there have been factory closings (such as during the Great Recession in 2008) that have created unfavorable perceptions about manufacturing. As a result, many high schools began to focus on STEM science, technology, engineering and math without linking any of those skills to manufacturing.
Combine these misconceptions about the manufacturing industry with the constantly pushed narrative that a four-year college degree is the only path to success, and fewer and fewer young people are pursuing careers in skilled trades.
A Shortage of Skilled Manufacturing Professionals
One of the main issues that this shift away from learning skilled trades in high school or when pursuing a higher education degree has caused is a shortage of skilled workers to meet U.S. manufacturing needs.
Manufacturing has been re-emerging in the U.S., but there is a significant shortage of skilled trades people available to fill open positions left behind in the wake of retirees among older generations.
This shortage will affect the U.S. on a global scale, especially when competing with countries like China, Germany and India, which are ramping up manufacturing sectors more and more every year. There are about 480,000 open positions in the U.S. for skilled trades that have gone unfilled.
With the Baby Boomer generation beginning to retire, this problem is becoming increasingly exaggerated. There are about 10,000 baby boomers retiring each day, and the younger generations are not equipped to take their place in skilled trades.
Engaging in Better Education and Automation to Bring About an American Manufacturing Renaissance
To climb out of the hole and become a world leader in manufacturing once again, this key shortcoming in U.S. manufacturing needs powerful solutions. One such solution is that high schools need to realize, as some are starting to, that skilled trades careers are another viable option for young people. They need to provide them not only support in the form of educational opportunities, such as shop class, but in career guidance, as well. Exposing students to the possibility of skilled trades can be such a helpful way to encourage students to consider options outside a four-year university.
Companies can also play a role in overcoming this manufacturing skills shortage. Some companies are beginning to sponsor students who go get an apprenticeship. Others offer summer internship programs or in-house skilled trades programs. Companies like General Motors and Ford have in-house skilled trades programs, and they've been developing people to be very successful skilled tradesmen.
Finally, automation can also address this skills gap. By allowing robots to tackle the dull, dirty and dangerous, human labor can be freed up to do what it does best – innovate and power progress that will get the U.S. back ahead in the global manufacturing landscape.
There isn't one path forward to bridging the U.S. manufacturing skills gap, but providing educational opportunities to both students and workers is a great place to start.
Follow us on social media for the latest updates in B2B!
Twitter – @MarketScale
Facebook – facebook.com/marketscale
LinkedIn – linkedin.com/company/marketscale
Latest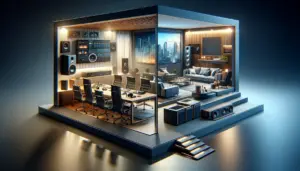 November 27, 2023
In this episode of "Pro AV Today," host Ben Thomas sits down with Audra Kinsley of Sonos Professional to unpack a topic that's causing (sound) waves in the audio industry: the fusion of commercial and residential audio systems. As we navigate through a landscape where consumer and professional audio worlds are increasingly intersecting, Sonos steps […]
Read More