Hot Dip Galvanized 'bloom' Art Piece Wins American Galvanizers Association Award
Modern art has long been a discipline where materials and substrates are innovative. While galvanized metal is best known for how it's applied in infrastructure and construction, it's also known for its ability to serve that innovative purpose with the introduction of "Bloom," a hot dip galvanized art piece in downtown Reno, Nev.
This glowing bloom of shoots and bulbs recently won the American Galvanizers Association (AGA) Artistic award, and AZZ Galvanizing – Reno played a critical role in the finished project by fabricator Michael Christian of Xian Productions.
About the Piece
The "Bloom" piece consists of four parts, including a bottom base, shoots, stalks and blooms. Oblong pieces of plasma welded together comprise the bottom vase, creating a coarse and bark-like texture.
The shoots in the next part were created using bent quarter-inch wires welded together with a steel ring.
Next, the stalks are round tubes in a variety of lengths to illustrate "growth." At the top, fabricated wires form the blooms, which have lights inside that can dim and glow throughout the night.
Why the Fabricator Chose Hot-Dip Galvanizing
Christian, the fabricator, selected hot dip galvanizing because of the environment. Reno is a desert city that has its share of extreme weather, including intense heat, heavy rains, and severe cold and snowstorms. The zinc coating from the galvanizing is robust enough to protect the piece from those elements. Zinc actually corrodes 30 times slower than steel!
Christian knew the value of the extended corrosion protection offered by galvanizing, but also wanted a uniform coating. AZZ advised him regarding how the coating would look on different steel surfaces, and, after thorough discussions, he decided to sandblast the entire piece for more consistency in its final coat. In the end, this last step helped deliver the most uniform appearance.
Beyond the aesthetics and erosion protection, galvanizing the installation ensured sustainability and provided a quick turnaround time. The investment in galvanizing was both cost-effective and will reduce the need for expensive maintenance.
The GalvXtra Process
AZZ has a world-class, proprietary hot dip galvanizing process known as GalvXtra. The hot dip process includes prepping and cleaning the surface to ensure it's a smooth as possible, then submerging the steel parts in a bath of molten zinc, where it remains until it reaches 840° F.
At this temperature, the zinc and steel react, developing a zinc/iron intermetallic layer on all surfaces. After dipping, every piece goes through a thorough inspection.
Project Recap
AZZ focuses on creating a stronger, safer world, evidenced by our focus on protecting infrastructure from corrosion. This project was a unique, artistic way to show the possibilities of galvanizing.
Learn more about AZZ's capabilities by exploring our hot dip galvanizing capabilities. 
Latest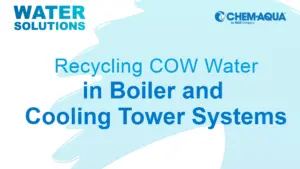 December 7, 2023
For the latest episode of ChemAqua's Water Solutions podcast, the focus was on an innovative approach to water conservation in the dairy industry. The show examined the potential of reusing Condensate of Whey (COW) water, a byproduct of dairy processing, and highlighted some of its economic and environmental benefits. Hosted by Dani Waddell, the informative […]
Read More