How A Queuing System Helps Improve Wait Times At Vet Clinics
Pet adoption soared during the pandemic. Nearly 20 percent of homes surveyed by the ASPCA adopted a pet. This increase in pet adoption leads to a domino effect that will increase wait times at the vet office.
On this episode of The Art of Waiting, A NEMO-Q podcast, Host Courtney Echerd talked with Erik Berg, Vice President of Marketing at Nemo-Q, about how installing a queuing system at vet clinics can improve wait times and increase customer satisfaction.
Berg noted that even in his home the pet number increased during the pandemic, so he understands the issue of waiting at pet clinics. With more pet owners, there is also a higher demand for pet food, pet products, and veterinary services. While it's certainly an inconvenience for pet owners, it could take a toll on a pet's health.
"There are two sides to the coin," Berg said. "The first is the people aspect of it, and that's obviously the animals, and the reason for needing to be at the vet is important. But, also you as a person are busy, and just like if you're going to the doctor you would like to be seen on time and in a timely fashion … the other side of the coin is for the pet."
With the increase in pet adoption, vet clinics have become crowded. A queuing system that allows customers to get on a waitlist before coming to an office creates efficiency. It creates a better workflow that will enable animals to be seen quicker. This also reduces anxiety for the animal, as they won't have to wait in a crowded, stressful animal clinic.
Latest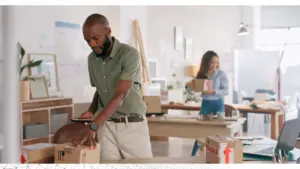 November 29, 2023
While the logistics industry often gravitates toward cutting-edge technology, Wesley Boyce, an Assistant Professor of Practice in Supply Chain Management and Analytics at the University of Nebraska-Lincoln, brings to light the enduring significance of radio communication. In a world enthralled by digital innovation, he argues that the simplicity of radios could be their greatest […]
Read More