How Aluminum and Glass Outperform Traditional Materials in Modern Design
Modern design doesn't just include creative applications; it also means using nontraditional materials. With urgent concern about surface contamination, this is a good moment to think about what materials you use and their cleanability.
This performance factor has more relevance now than ever. You can achieve a modern design with a healthier surface, like aluminum and glass, as opposed to traditional materials like wood and acrylic.
Performance Factors: Aluminum and Glass vs. Traditional Materials
To carefully examine each of these materials' performance, we rated them on four characteristics: how long a virus would live on its surface, cleanability, durability, and food and beverage impact.
In the chart below, you can see how glass and aluminum outperform acrylic and wood. Regarding virus lifespan, aluminum is the safest material. On cleanability, glass and aluminum lead the way, while aluminum wins for durability. Finally, acrylic and glass win for food and beverage.
Traditional Materials Need an Update
Wood is very versatile and widely used, but that doesn't mean it's always the best material for the job. It's a lengthy, resource-heavy process to use wood as a material. Wood also falls short in some of the most important categories. It's susceptible to moisture damage, and it scratches and chips easily after prolonged use. Wood is a known material and one that the world has used for thousands of years, but it's time to rethink the applications and better alternatives.
Acrylic is another traditional material that has its shortcomings. In comparing glass versus acrylic, glass has some significant advantages. Acrylic is more expensive, more prone to scratching, and requires more maintenance. If you're choosing between acrylic and glass for your design, performance is a necessary consideration.
Why Is Glass High Performance?
Glass is nonporous by nature, making it very easy to clean. It also won't stain or "ghost," which is a condition where, even after cleaning, residue is left behind. Glass can also withstand heavy use. Using glass for shelving, frameless doors, or other applications has become an alternative that's safer, as well, since it can be antimicrobial. It can be especially effective in high-germ areas like kitchens and bathrooms.
Glass has also become a favorite for markerboards. Glass markerboards offer great functionality without the concerns of whiteboards.
Aluminum: Lightweight and Flexible
The light weight of aluminum has made it a go-to for many designers, as other metals are too heavy. Its composition, however, isn't weak. It's a strong metal that also doesn't corrode due to a natural protective thin oxide coating.
The metal has green attributes, as well—it's non-toxic and recyclable. Its surface is easy to clean and has the shortest virus life span out of the materials compared. All of these traits make it a viable option to replace conventional materials in nontraditional applications like aluminum cabinet frames.
Explore More Aluminum and Glass Options
There are so many possibilities with aluminum and glass. Both have aesthetic appeal, but other performance factors are even more important. These materials are durable, highly cleanable, and safer. Find ideas for new applications in our inspiration page.
Latest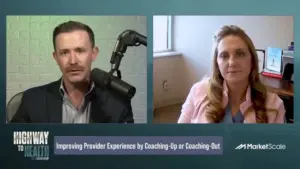 November 28, 2023
Improving healthcare is a multifaceted challenge, with the provider experience playing a pivotal role alongside patient care. In a recent episode of the "Highway to Health" podcast, host David Kemp delved into this critical issue with Stephanie Prechowski, MBA, MSN, RN, AGCNS-BC, CNOR, Chief Operating Officer at Surgeons Choice Medical Center. In this episode, […]
Read More