How Prepared are Buildings for the Challenges of the Future?
Owners, investors and landlords wishing to scale their investments rely on building management firms to look after their resources.
Currently, there are roughly 7.6 billion people in the world. By 2050, the United Nations predicts that there will be a population of 9.8 billion worldwide. Such a large number of inhabitants requires a significant amount of resources to survive.
The Challenges Ahead
Major cities worldwide have been taking initiatives to reduce the impact mankind is making. Green buildings, where structures are created using environmentally friendly resources, save energy and improve profitability throughout the property's lifetime. This takes into account everything from the drafting table, to the groundwork, operations and building management.
Building management systems (BMS), or building automation systems (BAS) are control systems implanted into buildings to oversee structures' HVAC, lighting, fire and security systems in a constant, collaborative, and instantaneous manner.
Having a building management system integrated throughout the entire structure enables integrated information to fuel improved control and operations. This allows buildings to maintain comfort and advance experiences within day-to-day activities. It also comes at lower cost and use of resources.
Where Innovation is Coming From
Leading American control system providers such as Cisco Systems, Honeywell and Johnson Controls are offering increasingly complex integrated control systems to deliver more unified building management.
These systems aim to provide smarter building automation and faster responses to critical alarms. They also integrate with lighting systems, fire detection and security programs, often managed from a control room.
An exciting trend in these newly offered systems is the ease of integration with new and existing automation systems. The Johnson Controls Metasys 10.0 will integrate with Simplex Fire Systems, Honeywell's Victor video management systems, and several lighting systems from leading lighting manufacturers.
Data as a Tool
An improvement in the new generation of control systems is the ability to securely extract data from the central controller and send it to an offsite location. These include a central head office or third-party analytics and reporting portal via a Cisco router.
While Johnson Controls is taking the lead in management of buildings' infrastructure systems such as lighting, HVAC, and electrical power management, Honeywell offers the Vector Space Sensing Program that gives property managers real time guidance into when, where and how building spaces are being utilized at any given time. Armed with this real time data, property managers can optimize the use of existing buildings and make informed decisions.
Smart building research company Memoori, published a white paper on the advantages of buildings using brick schema in the integration of buildings' internal and external systems. During a building's life cycle, occupants change and technology advances. The updates required will be a matter of a reboot instead of a completely new installation of hardware.
Overall, the cost of it all may be hefty to start, but in the long run, buildings with these evolving systems can examine and distinguish where and what is making money. Conversely they will know what has, is and will be costing more, with systems predicting, detecting issues or repairs needing attention before it becomes too costly.
For the latest news, videos, and podcasts in the Building Management Industry, be sure to subscribe to our industry publication.
Follow us on social media for the latest updates in B2B!
Twitter – @BuildingMKSL
Facebook – facebook.com/marketscale
LinkedIn – linkedin.com/company/marketscale
Latest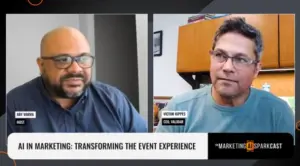 November 28, 2023
AI has been gradually changing the landscape of event technology at a very rapid pace. In an industry where staying ahead of technological trends is crucial, AI's impact on marketing and event management has become increasingly significant. As witnessed in the rise of account-based marketing and enhanced personalization, AI is effectively reshaping how events […]
Read More