How Valves Play a Key Role in Fire Protection
On this episode of The Valve Chronicles, a podcast from Cla-Val, host Tyler Kern and Cla-Val's Kyle Chism dove into perhaps the ultimate example of solutions that are often invisible, but always essential – fire protection products.
Chism serves as Cla-Val's Fire Products Manager and, over nearly a decade at the company, he's become intimately familiar with best practices for fire protection.
Fire protection valves, Chism said, are actually very simple.
"Every single one of our [waterworks] valves changes," he said. "In fire protection, you're going to have relief valves. You're going to have reducing valves. You're going to have pump suction control valves, air and vacuum valves, typical air release valves. You're going to find most of those around pump skids and distributed throughout buildings."
These valves also have important applications in offshore operations, which is something Chism has become experienced in dealing with thanks to work in the Houston region.
While the market, itself may be simple, it's one that every industry needs to have. Because of that critical nature, Chism warned against some common missteps in implementing fire protection solutions, such as overthinking complex plans, "undersizing" valves to meet late-project budget restrictions and more.
To learn more, listen to the entire episode for more key insights.
Follow us on social media for the latest updates in B2B!
Twitter – @MarketScale
Facebook – facebook.com/marketscale
LinkedIn – linkedin.com/company/marketscale
Latest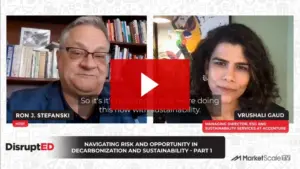 September 26, 2023
The global conversation has shifted dramatically towards decarbonization and sustainability in recent years. With the world experiencing unprecedented levels of disruption, from 5G technology to the challenges of a pandemic, the urgency to address climate change and its implications has never been more palpable. Although most business leaders see the vision of Sustainable Development […]
Read More