Look Out for Your Roof and It Will Look Out For Your Business
Every roof is an expensive building asset and should be protected. However, by the time most people show concern for their roof, it's too late. Protecting it before issues arise will significantly extend the life of your roof, save money, reduce the risk of building damage, and provide a significant increase in property value. 
Fortis Warranty Benefits 
Financial Certainty: Replacing a roof can be financially devastating to a business' operating plans. Eliminate the risk of living with a roof that isn't protected or guaranteed to perform while deferring the high costs of replacement. A Fortis warranty can bring peace of mind, knowing both the roof and your business are protected.
Guaranteed Performance: Fortis' warranties are the most comprehensive in the industry, contain the fewest restrictions, and are backed by Lloyd's of London. This means you can feel secure that the company has sound financial backing and that we'll be here when you need us.
100% Transferrable Warranties: Fortis is essential for transacting buildings that have no existing roof warranty. Owners with expired warranties or previously non-covered roofs can easily implement a Fortis warranty. Buyers wanting to make sure that they are buying a solid asset can request an assessment and insist on a Fortis Warranty.
Green Solutions: Industry data indicates more than 80% of roofs are replaced prematurely. Fortis saves millions of square feet of toxic roofing from entering landfills by reconditioning them through our stringent standards and deferring their replacement for many years.
Experience You Can Trust: With more than 15 years of proven results, over 2,700 buildings, and over 120 million square feet under our care, you can rest easy knowing that Fortis' solutions bear substantiated results! 
Good Riddance, Roof Risk
One of the reasons building owners don't spend money on extensive roof repairs is that they don't come with any sort of long term gurateee that they will work.They would spend lots of money and still hold all the risk. Many times building owner's replace their roofs when their manfactures warranties expire to avoid the risk of having an older roof on their building. Some building owners choose to do nothing.Neglecting a roof altogether could prove to be extremely risky and costly, but the threat to the safety of those who work under it every day is even more significant. When the health of a roof is unknown, it puts every employee at risk.
Fortis' solutions provide superior warranties that include extensise reconditioing work up front and guarantee the performance of your roof throught the warranty period. Fortis takes the risk so you can sleep sound!
Would You Neglect Your Own Coverage?
Parents, financial advisors, and others often advise younger generations to initiate life insurance coverage when they are younger. Typically set at fixed rates based on the age and health at coverage inception, a life insurance policy is less expensive when younger with more options available. As a person matures, obtaining coverage becomes a higher priority, but prices increase significantly each year as the individual ages. Further, a deadly disease can make a person entirely ineligible for coverage or at pricing that most cannot afford.
The same principle is true with roofing. When a roof is healthy and in good condition, long term goals for the asset are just that—long term. As a roof matures and initial warranties expire, disease can settle into the structure in many forms, making coverage challenging or even impossible to obtain. Fortis, however, provides a superior solution to increase the lifecycle of existing roofs.
A Fortis extended warranty is similar to a life insurance policy except that it actually guarantees the life of the roof for the warranty period. Costing less than one-third of the direct cost of a typical roof replacement (not to mention all the indirect costs), this safety net can't be ignored as a solution to your roof problems.  
A Roof Over Your Head, Money in Your Pocket
Traditional manufacturers' warranties are designed to protect their product, not the client. A Fortis warranty, is a proactive approach to roof safety, guaranteeing roof performance and extending roof life to protect buildings, tenants, and owners. This saves you money, defers unnecessary spend, and delivers total peace of mind when it comes to your roof.
To learn how Fortis Warranty can keep the roof from caving in on your budget, click here.
Latest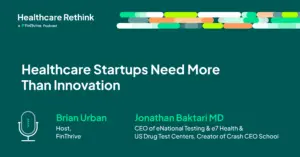 December 11, 2023
Healthcare startups need more than innovation; they require dynamic leaders willing to take these endeavors beyond the ordinary into uncharted waters to generate unparalleled success and lead the industry forward. In the latest episode of The Healthcare Rethink Podcast, host Brian Urban sits down with multifaceted healthcare leader Jonathan Baktari, MD, CEO of eNational […]
Read More