MINING FILM THAT DOESN'T CUT CORNERS
Brattices play a vitally important role in mining. These concrete, wood, or cloth partitions are erected within mine shafts for providing ventilation. By dividing a single shaft into two parts with a brattice, air can be delivered down one section of the shaft, and then ventilated out through the other side. Following the 1862 Hartley Colliery Disaster in Northumberland, England which saw 204 men die of carbon monoxide poisoning following a mining accident where the shaft became blocked by a beam, UK government regulators mandated that collieries have at least two shafts. To this day, brattices remain essential as they are leveraged to direct air currents throughout the entirety of an underground mining structure.
While permanent brattices typically utilize a wood or concrete design, temporary brattices make use of cloth curtains. To ensure superior ventilation and minimize the risk of fire, the curtains are usually made out of flame retardant materials. Pres-Flex, a division of Presco, engineers vinyl films formulated with flame retardants, making them ideal for use in the construction of brattice curtains. Our films meet the stringent flame specifications established by the Mine Safety and Health Administration (MSHA). We understand that well-made, self-extinguishing brattice curtains could mean the difference between life and death for miners, so we never cut corners and take our obligation to meet the MSHA standards seriously.
In fact, our film exceeds the MSHA 30 CFR 7.27 test for flame resistance of brattice cloth. For operations that require special cold crack properties, we can custom formulate films so that they can be used in frigid winter conditions. Our films are available in a variety of colors including double polished clear and mine safety yellow. Additionally, we are able to customize the thicknesses and roll sizes to suit the unique needs of an operation. And to help meet your sustainability goals, Pres-Flex mining film is 100% recyclable.
For over 20 years, Presco has developed leading Pres-Flex Mining Film for use in the construction of brattice curtains for underground mines. We've used our experience to engineer a durable, flexible vinyl material that helps to ensure worker safety and exceed the standards outlined by MSHA. Our specialized, technical know-how enables us to create custom formulations, subject to minimums and lead times. To learn more about high-quality Pres-Flex Engineered Film extruded right here in the United States, learn more today!
Read more at garagecabinets.com
Latest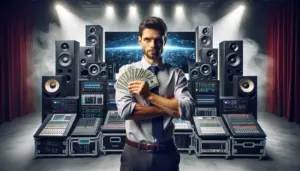 December 8, 2023
Mastering AV sales strategies in a global professional audio-visual (Pro AV) market, poised to reach $79.2 billion by 2028, requires much attention to detail. The surge in demand from corporate, government, and institutional sectors, driven by the need for enhanced productivity and efficient working environments, gives AV sales pros a lot of opportunity. In […]
Read More