PRESCO IS HELPING TO BUILD THE COUNTRY WITH AMERICAN-MADE SAFETY MARKING PRODUCTS
Construction is an all-American industry whose workers literally built this country. Serving an essential role in keeping our country's construction sites safe and productive are safety marking products. Buying American-made safety marking products means structural sites are not only using standard-meeting, quality products, but these purchases also support U.S. employment efforts.
Presco is proud to offer many American-made safety marking products that support both the domestic building industry and our national economy. Let's take a look at what we offer and why buying American isn't just patriotic, but shrewd, safe, and savvy as well.
Buying Non-American Has Its Drawbacks
Many companies either aren't paying attention to where their purchased products are manufactured or are purposely outsourcing these goods to other countries in an attempt to cut costs. Unfortunately, these off-shore products are often of inferior quality and don't meet basic specifications. In fact, they may not even meet OSHA standards, which can lead to violations and possible fines for organizations that use them. In addition, due to frequent delays encountered overseas, receiving these products on time is commonly problematic, resulting in missed project deadlines, unnecessary costs, and overall inconvenience for stakeholders and builders alike.
Quality is an American Value
When companies partner with Presco, they experience quick turnaround because our products are shipped from our Texas location. That means contractors have the tools needed for projects on time and on budget, allowing for optimized workflows.
Furthermore, Presco's high-quality marking products exceed industry specifications and meet all OSHA standards, keeping workers safe while preventing potentially tragic and often expensive workplace incidents.
Presco Celebrates ItsSemisesquicentennial
In 2018, Presco celebrates its 75thanniversary as a premier manufacturer of safety marking products. Presco has built our sterling reputation on providing extraordinary customer service and satisfaction by solving our customers' needs using American integrity and intuition. Presco provides our customers with a wide variety of marking tape solutions, most manufactured right here in the USA.
When choosing safety marking products for construction projects, consider the benefits of buying American. Check out our entire line of products at http://www.presco.com/marking-products/.
Latest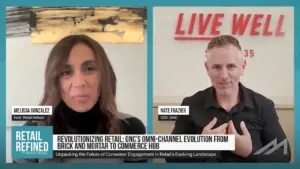 November 29, 2023
The transformation from a traditional brick-and-mortar store to an integrated commerce hub is crucial in the fast-evolving retail landscape. GNC's omni-channel evolution epitomizes this shift, blending in-person and digital experiences to meet the contemporary consumer's demands. But what does this mean for the future of retail? "Retail Refined," hosted by Melissa Gonzalez, welcomes Nate […]
Read More