PROTECTING THOSE WHO PROTECT US: BREEZER MOBILE COOLING IS KEEPING US ARMED FORCES COOL
The United States Armed Forces are continuously in harm's way as they protect our country from constant threats and dangers. One danger to military personnel is the extreme heat encountered in harsh environments during training and in combat. We at Breezer Mobile Cooling believe everyone deserves to be cool. Especially our military personnel. Staying cool in even the most hostile conditions is key to reducing mistakes, improving productivity, creating safe work environments, and keeping personnel mission-ready:
Reducing Mistakes – As temperatures rise, mistakes increase.
Improving Productivity – Heat reduces the mind's and body's ability for top performance.
Creating Safe Work Environments – Heat-related illnesses can result in serious injury and can even be fatal.
Keeping Personnel Mission Ready – The Armed Forces need to always be ready and on target.
Only the best is good enough
Breezer Mobile Cooling has developed advanced cooling solutions that are uniquely qualified for the Armed Forces. In fact, our evaporative cooling fans are deployed to keep the US Armed Forces cool in 29 countries globally.
Reliable and rugged, our cooling solutions are built to withstand the toughest conditions. They have passed MIL-STD 810G. With minimal set-up time and virtually no maintenance, self-contained for easy storage, they have proven to provide effective cooling to military personnel. See also TRADOC Regulation 350-29, page 44, E-5.
Innovative design
Power Breezer Titan and O2 utilize jet engine technology in combination with advanced fluid dynamic systems to create a quiet, yet powerful, cooling air stream. Thanks to the innovative atomizing technology our air coolers disperse tiny water droplets that evaporate quickly to keep personnel and equipment cool, not wet.
"Everyone deserves to be cool, especially our soldiers," says Rich Clem, Vice President of Government Business Development. "They face enough threats. Thanks to the rugged cooling solutions from Breezer Mobile Cooling, heat does not need to be one of them."
Learn more about the Power Breezer Titan and O2 from Breezer Mobile Cooling and check out this video to find out how we support our military!
Read more at powerbreezer.com
Latest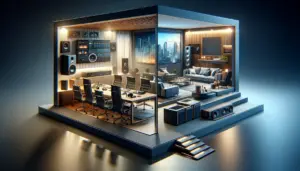 November 27, 2023
In this episode of "Pro AV Today," host Ben Thomas sits down with Audra Kinsley of Sonos Professional to unpack a topic that's causing (sound) waves in the audio industry: the fusion of commercial and residential audio systems. As we navigate through a landscape where consumer and professional audio worlds are increasingly intersecting, Sonos steps […]
Read More