The Leading Blue Glass Cleaner Can Kill; Should it Be in Schools? with John Shanahan of Ionogen & JPS Communications
Are you aware that the leading blue glass cleaner can kill you? Did you know that the leading disinfectant wipe on the market does not do anything?
In this episode of the MarketScale Building Management Podcast, we speak with John Shanahan, the President and CEO of Ionogen and JPS Communications, who calls attention to some of the chemicals that we let seep into our skin on a daily basis, in our homes and schools.
Shanahan points out that the chemicals that we use on a day-to-day basis to clean our homes, offices, hotels, and even schools can be extremely toxic, even deadly; unfortunately, consumers and facility management professionals alike often don't know this. A lot of the chemicals being produced have been on the market for 50 or 60 years or have high brand recognition, so everyone assumes that these cleaning products are okay, but they actually have some very dangerous, toxic chemicals. Because it is in the cleaning realm, the government doesn't intervene.
A simple thing like cleaning windows can result in someone breathing in a high percentage of chemicals through the nose, mouth, and skin. Everything that lands on someone's skin goes directly to the kidneys and liver, and everything someone breathes goes straight into the lungs.
And about that disinfectant wipe? It's made from Quaternary Ammonia, in many cases, which five leading universities have targeted as cancer-causing. When someone uses these wipes without gloves, it can soak up through the skin and into the body.
Though it's important to educate consumers, the burden falls on facility managers to bring safe sanitization to public spaces, especially schools. Shanahan explains further about Norovirus, why so many people are dying from the flu, how cruise ships and schools are being affected, and why Chipotle almost closed down all of its restaurants last year. If you have ever used a cleaning chemical in your workspace, you do not want to miss this valuable, lifesaving information.
For the latest news, videos, and podcasts in the Building Management Industry, be sure to subscribe to our industry publication.
Follow us on social media for the latest updates in B2B!
Twitter – @BuildingMKSL
Facebook – facebook.com/marketscale
LinkedIn – linkedin.com/company/marketscale
Latest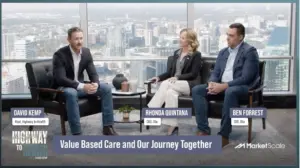 December 7, 2023
As of recent times, the healthcare industry has been progressively shifting towards value-based care, a model that emphasizes patient outcomes over the quantity of services delivered. This transition represents a significant shift that promises to enhance patient experiences and outcomes while controlling healthcare costs. With a growing emphasis on this approach, especially over the […]
Read More