When it Comes to Floors, is Softer Really Better?
Though the collective consciousness around "going to work" brings up images of sitting at a desk in front of a computer, it's not representative of reality. According to the Bureau of Labor Statistics, in 2016, the majority of workers have to stand "61 percent of the workday…and 39 percent of the workday sitting."
But even in careers where being at a desk is the reality, physical fitness initiatives are having workers look for ways to continue to better their bodies, despite their 40-hour workweek of sitting.
In the office space, there has been an increase in items like standing desks to help with posture and neck strain. But what about the stress on feet and backs from standing? How do the standing desk employee, the manufacturing floor worker and the pharmacist all find a way to alleviate the pain and fatigue of being on their feet?
In this episode of the Building Management Podcast, Daniel Litwin, the Voice of B2B, interviews Bryce Betteridge, CEO of SATECH Inc., to find the answer.
The company provides SmartCells technology, a "just right," Goldilocks-type of anti-fatigue floor that aims to provide the maximum amount of foot and body comfort day in and day out.
"If people are going to be on their feet for any length of time, anti-fatigue mats or flooring can make it a lot easier for them," Betteridge said.
Unfortunately for some, there is a misconception that a hard floor is bad for the body and that a softer floor is better. Research shows that's not the case.
"Too soft flooring acts like a hard surface to some degree. It tends to bottom out, there's no resistance to the weight that you're putting on it, and once you stand in one place on an overly soft mat, you begin to feel like you're resting on concrete under a thin layer of compressed foam."
He goes on to point out that the perfect flooring combines shock absorption and cushion movements with a little resilience or rebound to give back energy as you move, and squishy surfaces just do not have that. Betteridge explains the effects that quality flooring can have on reducing workplace accidents and injuries, as well as promote general productivity and positivity in the workplace.
For the latest news, videos, and podcasts in the Building Management Industry, be sure to subscribe to our industry publication.
Follow us on social media for the latest updates in B2B!
Twitter – @BuildingMKSL
Facebook – facebook.com/marketscale
LinkedIn – linkedin.com/company/marketscale
Latest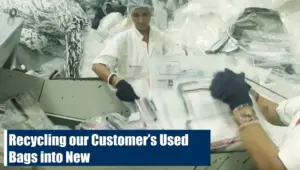 December 6, 2023
This video focuses on EcoLOK4, a groundbreaking product by CONTROLTEK that exemplifies innovation in sustainability. It highlights the process of transforming landfill waste into new deposit bags, with 90% of each bag's material being repurposed trash. This initiative not only reduces waste but also closes the sustainability loop, demonstrating CONTROLTEK's commitment to environmentally friendly […]
Read More