Storm Sewer VS Sanitary Sewer
When discussing the differences between storm and sanitary sewers, it is important to remember that each system has a distinct purpose within their developments.
First, the storm sewer system controls rainfall and other natural run-offs to protect downstream owners. In undeveloped areas, rainwater seeps through the ground into the water table which can cause erosion and degradation of the stream valleys. Development of parcel place structures, or pavement over the existing dirt, prevent the transfer of rainwater into the water table. Storm sewers collect rainfall and other drainage from developed areas and transport it to holding ponds, where the water can gradually enter our streams and other natural bodies of water.
Storm drain inlets are typically found in curbs and low-lying outdoor areas. In most planned developments, the county requires that the developer install a storm drain management system capable to serve the whole development as a part of its initial development. However, when dealing with effluent or other contaminated water, that is not the job of a storm drain but the sanitary sewer system.
The sanitary sewer system controls wastewater. The sanitary sewer collects discharge from our bathrooms, kitchens, sinks, and other plumbing fixtures and transports the discharge to wastewater treatment facilities. There it is filtered, treated, and once clean, released back into the environment. The sanitary sewer system, unlike the storm sewer, is not intended to manage rainwater or another normal runoff. Soapy water from a carwash, for example, would be discharged into the sanitary sewer system.
The water that most carwashes use to wash cars is recycled and reclaimed through the use of efficient and environmentally friendly reclamation equipment. The overflow water from the carwash reclamation tanks flows to the sanitary sewer, not the storm sewer and thus does not impact the existing storm water capacity.
Professional Carwashes are Safer for the Environment than Home Washing
Did you know that professional carwashes are actually much better for the environment than home washing? We use low flow nozzles and computers that tell us when exactly to use water in our carwash process. In fact, municipal counties are actually encouraging citizens to wash their car at a professional carwash as it requires them to adhere to wastewater discharge and plumbing requirements.
Latest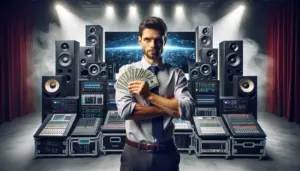 December 8, 2023
Mastering AV sales strategies in a global professional audio-visual (Pro AV) market, poised to reach $79.2 billion by 2028, requires much attention to detail. The surge in demand from corporate, government, and institutional sectors, driven by the need for enhanced productivity and efficient working environments, gives AV sales pros a lot of opportunity. In […]
Read More