How to Tackle Allergies and Improve Air Quality Indoors
With spring comes a welcome change in temperatures and a feeling of rebirth, as shrubs, trees and more sprout beautiful green leaves and multihued flowers. And pollen. Lots of pollen. For some of us, it's a season of coughing, sneezing, itchy eyes and a nose that just won't stop flowing. Ugh!
Springtime allergies affect millions of people. There are steps, however, that can help curtail allergy symptoms, like leveraging HVAC air filters that remove unwanted particles from indoor air, not only pollen, but dust, pet dander and more.
Indoor Air Quality and Healthy Clean Air
Those more susceptible to springtime allergies are more likely to spend most of their time indoors. In fact, webmd.com even recommends that those afflicted with seasonal allergies remain indoors, particularly during the morning, when pollen counts are typically high.
However, did you know that indoor concentrations of some pollutants are often 2 to 5 times higher than typical outdoor concentrations? Further, modern energy-efficient building construction used over recent decades often lacks enough mechanical ventilation to ensure adequate air exchange, often increasing indoor pollutant concentrations.
So, what can be done?
Air Filtering 101
Most people know that regularly replacing the air filter on their HVAC system or furnace filter will help to maintain healthier air quality, lower energy costs, keep the HVAC system clean, and extend the life of the unit. However, while cheap standard 1" HVAC air filters and furnace filters trap some particulate there are better air filtering solutions.
Although it may require some retrofitting, upgrading to a media filter cabinet with a quality air filter can improve air filtration beyond what standard filters offer. These media cabinet filters last longer, depending on where you live, and trap smaller particulates so indoor air is clean.
Whole Home Air Filter
Optimizing indoor air quality, Field Controls media air filters or whole home air filters, provide the outstanding air filtration performance a healthy home needs without affecting either static pressure or airflow. With an increased surface area, Field Controls pleated media filter can trap more airborne contaminants than its 1" counterpart without affecting airflow.
Also, Field Controls media air filters don't become clogged as quickly, requiring replacement only once or twice a year, offering a longer service life with less money, inconvenience and time spent replacing filters.
Which media filter works best?
Field Controls Replacement Cartridge Media Air Filters 
Field Controls MERV 8 or MERV 11 pleated media contains enough air filtering capacity to clean air for months without restricting air flow or putting a strain on the air handling system. Our filter media is electrostatically "supercharged" for better efficiency and longer service life. It is moisture resistant and will not support the growth of bacteria or other microbes.
Field Controls replacement filters come in 3", 4", 4-3/8" and 5" models. The 16″ x 25″ x 3″ air filters are direct replacement media air filter for Trion Air Bear Cub.
Our 4" models (Actually 3-3/4") come in two sizes: 16″ x 25″ x 4″ and 25″ x 20″ x 4″.  These models are direct replacement for Trion replacement air filters and Trion Air Bear filters.
Our 4-38" models (Actually 3-3/4") come in four sizes: 16″ x 20″ x 4″, 16″ x 25″ x 4″, 20″ x 20″ x 4″, and 25″ x 20″ x 4″.  These models are direct replacement for Honeywell replacement air filters.
Field Controls 5" models come in five different HVAC filter models. These home air filters come in three sizes: 16″ x 25″ x 5″, 20″ x 25″ x 5″, and 20″ x 20″ x 5″, and with MERV 8 or MERV 11 rated filtering media.
When trying to find relief from seasonal allergies and improve your indoor air quality, turn to Field Controls replacement air filters to trap pollen and other air borne allergies.
For the latest news, videos, and podcasts in the Building Management Industry, be sure to subscribe to our industry publication.
Follow us on social media for the latest updates in B2B!
Twitter – @MarketScale
Facebook – facebook.com/marketscale
LinkedIn – linkedin.com/company/marketscale
Latest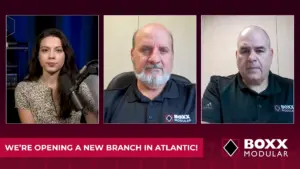 December 4, 2023
In an era where construction innovation is reshaping the industry, modular construction's growth continues to rise. In this episode of Built Modular, Boxx Modular's strategic expansion into Moncton, Atlantic Canada takes center stage. Host Gabrielle Bejarano welcomes Charles Landry and Ray Girouard to explore the implications of this venture. Bejarano, Landry, and Girouard discuss […]
Read More