Taking it to the Bank: Straight Outta Crumpton
Straight Outta Crumpton with host Greg Crumpton focuses on why building relationships is valuable, both in the world of business and in life.
This week, Tyler Kern and Greg Crumpton are joined by Jason Banks, CEO and Owner of Banks Electrical Contractors, to discuss how he fell into the electrical field and learned early on the value of obtaining a professional license to help begin a career.
Banks has now owned his own business for 19 years, but he likes to quip that he is still very much operating as a start-up company, because he never wants to stop learning how he can improve.
Make sure to follow along for more episodes of Straight Outta Crumpton, and click here for more episode!
Latest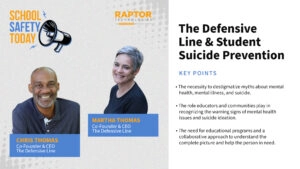 September 22, 2023
Student suicide prevention is a paramount concern among mental health providers. For one organization, student suicide prevention is more than a concern: it's their mission. The alarming rise in mental health crises among youth has become a pressing concern in recent times. With the complexities of modern life and the challenges of the digital […]
Read More