The Future of Indoor GPS: Why Apple Is Betting on the UWB Location Chip
The consumer technology landscape is often a good indication of where the technology world is heading, giving the world a glimpse into how the industry's major players are navigating unprecedented acceleration in the space and in innovation.
That landscape has seen Apple double down on its commitment to ultra-wideband technology, or UWB. The iPhone 11 was the first cellphone to leverage the technology, but the noted electronics juggernaut is set to continue to leverage the UWB chip.
What Is UWB?
The Apple UWB U1 chip made its way into the iPhone 12 range, as well, and many other devices will likely follow suit. It's important, then, to become familiar with this technology and its implications.
Essentially, UWB is a wireless protocol for communications that functions using radio waves. There are key differentiators between UWB and other location technologies that make UWB a more attractive option for a variety of consumer and business applications, particularly where high accuracy and extremely low latency are paramount to success.
What Are Some Common UWB Applications?
UWB use is growing among companies like Apple and consumer brands like BMW, which is working to integrate with Apple's CarKey, and Samsung, which employs a full-time "task force" dedicated to innovation in UWB.
More classic examples have been around for years, such as the "Find My" app on the iPhone, which lets you leverage UWB's "pings" to see the location of a lost device, and Apple's AirDrop feature for file transfer.
Lost-item tracking company Tile is also getting in on the action, announcing plans to release a UWB-enabled tag to rival the impending Apple AirTag that will also incorporate augmented reality technology to guide consumers to their items.
These uses, which are accompanied by a variety of others in the consumer market, indicate a clear trend – the superior location technologies enabled by UWB are ready to go "mainstream."
In industrial and business settings, UWB is opening new doors in real-time locating system, or RTLS, usage. They're used to track the location of objects or people in real time, giving organizations better insight into their operations and productivity.
For example, RTLS usage can enable parts or products to be tracked through assembly, merchandise located in warehouses (of growing importance in an increasingly digital shopping environment), and medical devices and other critical equipment to be tracked down when needed.
And these RTLS systems are getting more robust. Redpoint's tags deliver latency of less than 200ms and accuracy within 10 cm through tags that employ up to 26Hz updates per second, a feature only possible with Redpoint's patented DL-TDoA scheme.
The Future of UWB
UWB, alongside enhanced 5G rollouts and growing Internet of Things (IoT) usage, has a bright future in connectivity.
The more location-based data that can be produced in a given environment, the greater insights that can be drawn from that data. These insights will bring powerful new efficiencies to operations around the world.
The potential applications are exciting. UWB is already being used to engage in elevated indoor tracking for assets, people, vehicles and infrastructure, vehicle collision avoidance, indoor navigation, and more, and the capabilities are only growing. The future will bring powerful Industry 4.0 use cases, such as warehouse connectivity, mining visibility and logistic digital twins.
In a world that revolves around data collection, increased visibility and robust, actionable insights, that's a game-changer.
To learn more about Redpoint Positioning's role in elevating RTLS use in complex environments, visit redpointpositioning.com/technology/.
Latest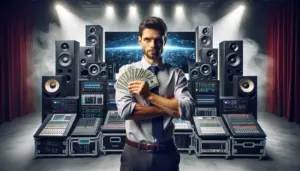 December 8, 2023
Mastering AV sales strategies in a global professional audio-visual (Pro AV) market, poised to reach $79.2 billion by 2028, requires much attention to detail. The surge in demand from corporate, government, and institutional sectors, driven by the need for enhanced productivity and efficient working environments, gives AV sales pros a lot of opportunity. In […]
Read More