The Importance of a Good Seal on Swing and Slide Doors
A walk-in cooler with a poor seal causes significant and unnecessary expenses.  A proper door seal on walk-in coolers is essential. If either swing or slide doors aren't sealed correctly, the entire refrigeration area could be compromised. A poor fit causes inefficient performance, expensive energy bills, and costly maintenance to remove unwanted contents. 
Potential Slide Door Issues
Without the right seal, the integrity of your door will be compromised. If you're able to see any light through a crack in the door when it's pulled shut, the door lacks a proper seal. A door that's not pulled snug can allow heat, moisture, and vapor to infiltrate, all of which are harmful to the valuable products inside. This penetration can cause ice and condensation to build up resulting in torn gaskets that can lead to premature, preventable wear and tear. Follow proper installation guidelines and perform routine checks, as incorrect configurations can potentially cause major issues.
Swing Doors Susceptible Too
With swing doors, the sweep must touch the floor, and all hydraulic closers must be in working condition. The sweep is critical because if the door isn't fully shut, it is possible for a heat pocket to form. The sweep also protects against ambient air infiltrating the unit. Be sure to set reminders to adjust the sweep frequently. Use a Philips head screwdriver to move the screws up or down, so the sweep contacts the threshold appropriately. Also, regularly ensure the hinges are not bent or broken. When installing this door type, the alignment needs to be perfect, and all angles must be 90 degrees. To prevent issues, make sure the drain isn't positioned in front of the walk-in door during installation, or underneath it. Improper drain placement makes a proper seal extremely difficult.
Be Successful with a Tightly Sealed Door
To prevent potential issues that result in condensation, or heat and air infiltration, you must correctly install slider or swinging doors. Make sure your door section is square and plumb by checking the bottom, top and diagonals before installing your door stabilizers. Incorrect alignment can lead to serious issues.
KPS Global understands that a properly sealed door is imperative to the success of your business. They offer tips and tricks videos on how to adjust a door sweep, as well as other common questions. Check out their video library here: https://kpsglobal.com/services/. KPS Global parts specialists are also available to help provide replacement parts for your walk-in door at competitive prices: parts.kpsglobal.com.
Read more at kpsglobal.com
Latest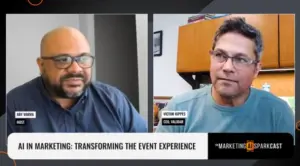 November 28, 2023
AI has been gradually changing the landscape of event technology at a very rapid pace. In an industry where staying ahead of technological trends is crucial, AI's impact on marketing and event management has become increasingly significant. As witnessed in the rise of account-based marketing and enhanced personalization, AI is effectively reshaping how events […]
Read More