Is It Time to Invest in a New Change Machine?
Small, savvy business owners know that maintaining a fine balance between maximizing profits, increasing revenues, and decreasing overhead is an investment in their business for the long term. As such, these potential customers often ask how long our change machines will last. 8 years? 10 years? Well, the answer is: We simply don't know.
The lifetime of a Standard-Change Makers change machine is cyclically-dependent rather than chronologically. Many of our change makers have been in the field for 20 to 30 years—that's millions of cycles—and are still performing everyday. Obviously, these legacy machines have been well maintained by knowledgeable owners that have implemented consistent preventative maintenance programs. These conscientious proprietors also work with Standard Change Maker Service Techs to ensure they have spare parts in stock which can be swapped out and the problem part returned when it shows signs of wear or when an error code is displayed.
Sometimes, though, businesses are forced to discontinue a product line, even those that have performed well and are customer favorites. Usually these discontinuations are a result of a component manufacturer going out of business or choosing not to produce a certain part necessary to the product's mechanics. For this reason, a few years ago, we were compelled to discontinue repairs on our System 500 and 500-E bill acceptors. While current System 500 unit owners must face investing additional capital in replacing these somewhat expensive, but necessary assets, newer units include faster, better sensing technology; and with proven life expectancy and unparalleled support service, the ROI is worth the outlay.
Ultimately, all consumers reach a point when they must decide whether purchasing new equipment outweighs the cost of repairing the old. For instance, an automobile driver may realize that being without transportation and spending thousands of dollars in repairs to keep a 10-year old car running costs more each year than the annual investment in a new vehicle. So when is it time to invest in a new change machine?
To aid in the decision to invest in the latest change making technology, consider these factors:
Repair and Downtime Cost:
To determine the cost of ongoing repairs and service, review repair bills for the last two years. How much has been spent during this timeframe? Now, if possible, compare these bills with the previous two years. Is there a trend? Does a specific component constantly need attention? Then, determine whether these equipment glitches are causing customers to go elsewhere. Are you experiencing an increase in labor hours dedicated to attendants handing out change because machines are constantly out of order? If so, you must also factor in the cost of downtime.
Warranty:
Is your machine out of warranty? Usually, when businesses are spending disproportionately for repairs and maintenance, it's because the product warranty has expired. Money spent on out-of-warranty equipment repairs can be better allocated to an investment in newer machinery.
Aggravation factor
Machines that consistently necessitate maintenance or part replacement require valuable time and effort on your part. Is keeping older machinery limping along frustrating? Can your time and effort be better spent elsewhere?
As many owners can attest, quarters are the "life blood" of a coin laundry business. If this is so, then the change machine is the "heart". In today's competitive climate, self-service business proprietors must measure and determine the reason customers are loyal to their businesses. Clean and well-maintained facilities, friendly employees, convenience, reasonable prices, and of course, reliable equipment, usually top the list. If problematic equipment are a detriment to customer satisfaction, it's time to consider an investment in newer technology. See Standard Change Makers latest line of change machines and make the upgrade today.
Read more at standardchange.com
Latest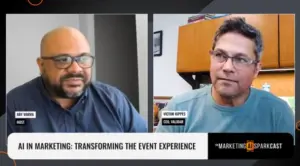 November 28, 2023
AI has been gradually changing the landscape of event technology at a very rapid pace. In an industry where staying ahead of technological trends is crucial, AI's impact on marketing and event management has become increasingly significant. As witnessed in the rise of account-based marketing and enhanced personalization, AI is effectively reshaping how events […]
Read More