The Top Smart Cities In The World
People are closer to each other than ever before. Now, any two people with a smart phone can see each others faces through their devices in a matter of seconds. It is only natural then, that the environments that people live in would become more connected.
Smart cities are coming to fruition quickly, and some are already well on their way to bringing their data, services, and security operations together in one place. We highlighted metropolitan areas that have taken the first steps in the race to automate and their residents will be happy to see their cities on our list.
Boston is one of the top cities for business ecosystems, internet speed, and expert perception on how the city is becoming smarter.
Smart cities are the latest urban phenomenon driving us towards beautiful and sustainable communities, designed to improve the lives of people who live and work in these areas.

Read more about Boston, MA's latest project here: https://t.co/YsuzGWbYw1 #Sustainability pic.twitter.com/eWnJwA5Ftg

— Specifi (@SpecifiDay) July 25, 2018
Seoul is about to host 5G networks and is on of the worlds leaders in using smart technology in transportation. 
Learn how Seoul is making improvements to their green tech, smart shopping, and public safety through their smart city tech https://t.co/bwjbf78lNp pic.twitter.com/cwtfvzzID8

— Consumer Technology Association (@CTATech) July 30, 2018
50 percent of Vienna is green space
https://twitter.com/SiemensBT/status/978918557936422912
Amsterdam was voted Europe's Capitol of Innovation
.@DigitalTrends takes a deep dive into how Dutch cities like Amsterdam, and Eindhoven incorporate smart city #technology into daily living.https://t.co/lRGWxzYonE pic.twitter.com/msJ2NPIyff

— Netherlands Embassy 🇺🇸 (@NLintheUSA) July 29, 2018
Tokyo has ranked very high in smart parking, WiFi hotspots, and has been made a "green island" 
The #Tokyo business camp is about to complete its 2 months with a final Public event around the 16th of this month, where all attendees will be pitching their solutions to the public! #Tokyo wants to be the epitome of a #smartcity. #Japan #IOTA #IoT @DomSchiener @DavidSonstebo pic.twitter.com/0cbDaDI5pc

— IOTA News (@iotatokennews) March 12, 2018
Stockholm has been named Europe's Green Capitol on several occasions and was the firs city to introduce 4G/LTE mobile services 
What makes Stockholm a Super #SmartCity? https://t.co/Ebr5WXqztb #SmartCities #SmartMobility #IoT #BigData #Tech #Transport pic.twitter.com/zWFPtRF0nJ

— R4Eproject (@roadmaps4energy) July 4, 2017
Paris is another major city utilizing green and renewable energy, with a large portion of the city's public transportation running on clean fuel. There are even rumors on electric cars. 
French companies partner to create 'smart city of the future' in Parishttps://t.co/Zp48clYMoq pic.twitter.com/CyMuQ6r9BA

— Smart Cities World Forums (@smartcwf) July 26, 2018
San Francisco's city grid runs on 41 percent renewable energy. They are a leader in internet speeds and smart parking. 
How to make a better smart city !https://t.co/Un7EoBc5nB#SanFrancisco #startup #IoT #hongkong #NewYork #bigdata #london #cloud #google pic.twitter.com/mQvy48qiYF

— Moduware (@moduwareinc) September 25, 2016
New York City was ranked the smartest city in 2017, they have strategically placed smart screens throughout the region for reporting news, events, and even offer coupons. They are also developing smart hubs,innovative economies, internet speed, and WiFi hotspots. 
Smart Assist doesn't stop travelling: last week Paris, today New York City, tomorrow Madrid and thursday Barcelona! pic.twitter.com/2PvFzo5Idd

— Ovide Smart (@OvideSmart) February 26, 2013
Soon travel, communication, security and information will all be streamlined seamlessly into everyday city living. These hubs will be test cases for the rest of the world as it becomes an even more connected place with the help of technology and a human desire for efficiency
For the latest news, videos, and podcasts in the Building Management Industry, be sure to subscribe to our industry publication.
Follow us on social media for the latest updates in B2B!
Twitter – @BuildingMKSL
Facebook – facebook.com/marketscale
LinkedIn – linkedin.com/company/marketscale
Latest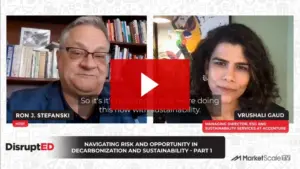 September 26, 2023
The global conversation has shifted dramatically towards decarbonization and sustainability in recent years. With the world experiencing unprecedented levels of disruption, from 5G technology to the challenges of a pandemic, the urgency to address climate change and its implications has never been more palpable. Although most business leaders see the vision of Sustainable Development […]
Read More