Valve Chronicles: Preventative Maintenance
For any parts in a mechanical process, preventative maintenance is critical for a longer, useful life. That's true for valves in water systems. On Valve Chronicles, host Tyler Kern spoke with Jake Corzine, Western Regional Manager, Cla-Val, and Randy Harris, EMT Superintendent, California Water, about the subject.
Harris' role with Cal Water is to manage a network that maintains electrical and mechanical systems, including valves. He explained the different types, "We use altitude, pressure reducing, pressure, release, and pump control. Additionally, sometimes there are combination valves."
In Harris' area, which includes 1750 valves, it's a tall order to keep them in top shape. He shared that some are as old as 1953, while they just installed a new one. So, how do they service all these valves?
Harris answered, "We are constantly checking the condition to ensure something that's worn out is replaced before failure."
They use a computerized maintenance management system that includes all the valves and have a five-year cycle for each one. Corzine commented, "Cal Water has also standardized each type of valve, which helps with maintenance."
Replacement versus fixing is another consideration. "It's the age and condition. We look at the inside of the valve. Before the mid-90s, they didn't have an epoxy coating, so rust builds up and has to be scraped away, which makes the body thinner," Harris said.
Corzine noted that Cal Water has an excellent maintenance program and encouraged all organizations to "allocate funds and time to this because it prolongs the life of the valve."
Follow us on social media for the latest updates in B2B!
Twitter – @MarketScale
Facebook – facebook.com/marketscale
LinkedIn – linkedin.com/company/marketscale
Latest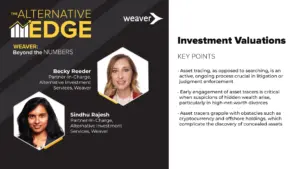 December 4, 2023
In this episode of The Alternative Edge, a Weaver: Beyond the Numbers Podcast, host Becky Reeder, an audit partner and co-leader of the alternative investments practice at Weaver, engages with Sindhu Rajesh, an Alternative Investment Services Partner with Weaver. They unpack the complexities of venture fund valuations, offering critical insights into industry dynamics and best […]
Read More