A Well-Maintained HVAC System Helps Technicians Beat the Heat
How can business and homeowners keep their HVACs running during those hot summer months and help their technicians beat the heat? Here's the secret: A well-maintained HVAC system will cut costs and technician workload, and keep a limited pool of techs from straining under the pressure.
As summer temperatures rise, HVAC services are in high demand to keep homes and buildings cool. Regular maintenance checks, primarily focusing on air filters, are crucial. Dirty or clogged filters can hinder system airflow, increasing energy bills. Homeowners should clear their outside AC units from debris and consider adjusting their thermostats up a few degrees during hotter days. Such measures ensure efficient system performance and extend the lifespan of HVAC units.
During extended summer heat waves and prolonged warm seasons, it's critical to remember the maintenance that can prevent unit breakdowns. Mark Brumlow, a Faculty HVAC Instructor at Lone Star College, has some advice for HVAC techs working in these conditions and some additional strategies to keep a well-maintained HVAC system in good working order.
Mark's Thoughts
"The service tech needs to conserve his energy as much as possible. He must wear clothing that will retain the sweat and cool his body. He needs to drink lots of fluids to keep his electric lights up, not only water, but maybe Gatorade or pickled juice, which will restore the electrolytes to his muscles to reduce cramping, and he needs to cool off. During the day, he needs to get into an air-conditioned place and cool off to continue to work."
Is There Anything Managers can do to Proactively Catch Issues Before There is an Outage?
"Check the units. They need to keep their tech's well. Maybe not push them, sixteen hours a day. Try to, after a while, you know, maybe use a shift, schedule a few in the morning, and then schedule some in the afternoon to where someone is maybe not working all day long to minimize the wear and tear on a single tech's body.
Take care of yourself first of all. If you don't do it, no one else is gonna look out for you. Use things like umbrellas; if you're working up on a commercial building, I had a large umbrella with a concrete base that I carry up there and set up to where I gave me some kind of shade to keep me out of the sun. Most techs are working by themselves. So they have to keep in tune with their own body and how they're feeling."
What Can be Proactively Done to Prevent an Outage?
"That's a little bit different. They have the opportunity to go in and cool down, and all Take advantage of it. Don't push yourself. If you feel weak, go in and cool down. You have to know the signs of heat exhaustion and heat stroke."
How do You Clean Your AC Unit in a Residential Setting?
"Maintenance units are composed of electrical components. Stress on electrical components, will, the heat definitely breaks them down. You just do preventive maintenance. You can wash the condenser's coils, make sure that your unit's evaporator coil is clean, and make sure your filters are being changed regularly.
These are the primary responsibilities of a maintenance check, but just going out to your unit and washing it a couple of times a month will ensure it to prolong the life of the unit itself."
How do You Clean a Residential AC Unit?
"With the water hose. If you're not an air conditioning tech, then I would definitely turn the unit off, turn the electricity off, and wash the condenser. You don't think about it; they talk about the Sahara dust or large construction site around. You'd be surprised how much dust is impacted in these condenser coils. And a simple washing them will add life to the unit."
What are the Most Common Mistakes You See with AC Units?
"Block and blocking the units off, wanting to hide them behind a fence, not allowing enough air circulation through the condenser coils, putting over a canopy to where you create a convection type, heating, and superheating the same heat without bringing in cooler air, that would be a mistake. On the Commercial side, most of these are located up on the building.
And, you know, an eight-story building. It's already gonna be fifteen or twenty degrees hotter up there. There's not a whole lot you can do. Just keep the condenser coils clean. If I had that kind of skill, I'd be a millionaire if I could lay my hand up on this unit and say, you have three months and two days to live; I'd be a millionaire."
Article by James Kent
Latest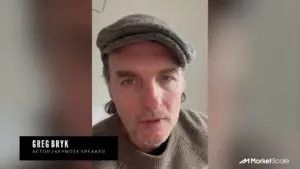 November 30, 2023
In a crowded marketplace, authenticity could be the strongest differentiator in standing out from the competition. Actor and Keynote Speaker Greg Bryk shares his insights on making a mark, on-screen and in the B2B arena. Bryk emphasizes the power of authenticity over pandering to the audience. He explains, "The way to stick out from […]
Read More