2023 Might Be the Year for Conversion Projects in Commercial Real Estate
Commercial real estate took a huge hit due to the pandemic, and in 2023, the effect still lingers, largely due to rising inflation, which has tightened economic conditions.
According to data from the National Association of Realtors (NARS) as of Q3 2022, the office sector is still struggling to find its feet—even as more establishments have embraced hybrid work—as 1.34 million more square feet of space was vacant; the retail sector jumped to 23.3 million sq. ft., a 22% increase from Q2; hotel occupancy remains low due to inflation; and the industrial sector keeps its foot on the pedal—greater than pre-pandemic—with an absorption rate of 425 million sq. ft., a 12% increase.
Financing is another major factor: inflation has made it difficult for individuals and entities to obtain financing, therefore capping their purchasing abilities. Countries with more stable and lower interest rates saw a smaller drop in commercial real estate during the pandemic and are quickly recapturing the industry.
Eddie Martini, a Real Estate Investment Advisor for Propertycashin, shares his thoughts on the future and thinks that in 2023, there will be a lot of conversion projects in the commercial real estate space and a shift in the landscape.
Eddie's thoughts:
"I think in 2023 we're gonna see a lot of conversion projects come to the commercial real estate space. I'm noticing a big trend that businesses are not in a hurry to fill back up those brick and mortar spaces with office space, and so therefore those complexes are gonna stay vacant. I don't think they'll stay vacant for long.
I do think there are enough creative investors in the marketplace that will see the potential and what we can do to convert those projects into either a mixed-use type setup or the lower. Still will be somewhat of a commercial type space whether it be a small cafe or maybe a chain fast food restaurant that comes in.
And then the upper stories will turn into strictly residential, whether it's condos or fuller apartment complexes above. So 2023 will be the year of conversion projects. And it's going to change the landscape a bit. But I don't think anyone right now can really predict anything to the tee. There's just so much influx going on with everything in the world right now, but I am seeing a very strong trend of vacant spaces.
Again, I don't think they'll stay vacant for long, but the conversion I think, will lean more towards a residential-type conversion or apartment-type complex. It does come in where in the past it was strictly a business-owned space."
Mike Riso, Strategic Real Estate Advisor at PropertyCashin.com gives his thoughts on where he sees the market headed in 2023.
Latest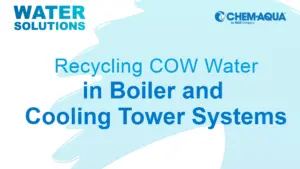 December 7, 2023
For the latest episode of ChemAqua's Water Solutions podcast, the focus was on an innovative approach to water conservation in the dairy industry. The show examined the potential of reusing Condensate of Whey (COW) water, a byproduct of dairy processing, and highlighted some of its economic and environmental benefits. Hosted by Dani Waddell, the informative […]
Read More