Stenograph® Announces MAXScribe™ Version 3.0, Allowing Users to Provide Real-Time Services
PRESS RELEASE
SEP 15, 2022 10:00 CDT
—————————————————–

DOWNERS GROVE, Ill., September 15, 2022 (Newswire.com) – Stenograph, LLC, the leader in legal transcription technology, has announced an important update to MAXScribe, the first and only software offering multi-channel recording, annotation, Phoenix Automatic Speech Recognition (ASR) engine, and editing features within a single application. MAXScribe is designed specifically for the court reporting and legal transcription industry to increase the productivity and profitability of reporters, court reporting agencies, as well as transcription service providers. By using MAXScribe, certified digital reporters can double their earnings and certified transcribers can increase their efficiency by up to 50%.
"Demand for MAXScribe has been strong because our solution provides audio capture, automated transcription, and transcript production all in a single solution," said Nayan Patel, Senior Product Manager for MAXScribe and Phoenix. "Our customers have been asking for streaming text to improve the RealTeam editing experience to provide same-day finals. These new features combined with the custom-built and highly accurate Phoenix ASR engine and industry-standard layout and editing tools make MAXScribe 3.0 a game changer."
In this software update, Version 3.0, MAXScribe now offers near-instant streaming text, providing users with a rough transcript when recording is taking place. When this powerful streaming technology from the Phoenix ASR engine is integrated with Stenograph's CaseViewNet®, users can transmit a rough transcript in real time to their clients both in the room and remotely. MAXScribe is now also integrated with Stenograph's RealTeam™ collaboration tool, allowing editors and proofreaders to simultaneously edit a transcript. Changes are made in real time and visible by other participants, producing transcripts faster than ever before. MAXScribe now gives agencies all the tools they need to fulfill real-time, same-day transcript services with certified digital reporters.
"MAXScribe 3.0 is the culmination of delivering the best Automatic Speech Recognition experience to our customers to make them more productive and profitable," said Anir Dutta, President of Stenograph. "With this latest version of MAXScribe, our goal is to enable court reporting agencies to effectively cover their calendars irrespective of job turnaround times. In addition, we also want to empower CERs and CETs to 3X their earning potential and productivity. As one of our agency beta customers in Chicago so eloquently put, 'There is incredible value in these new features. The addition of streaming real-time text in conjunction with RealTeam and CaseViewNet into MAXScribe is a game changer. For the first time, these capabilities, bring real-time and same-day services to digital reporting.'"
For more information on Stenograph solutions, please visit www.stenograph.com.
Source: Stenograph, LLC
Latest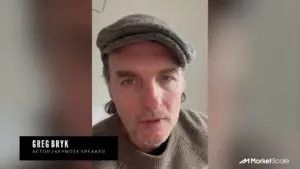 November 30, 2023
In a crowded marketplace, authenticity could be the strongest differentiator in standing out from the competition. Actor and Keynote Speaker Greg Bryk shares his insights on making a mark, on-screen and in the B2B arena. Bryk emphasizes the power of authenticity over pandering to the audience. He explains, "The way to stick out from […]
Read More