What Growth in the Temporary Health Insurance Market Means for Providers
A recent study indicates that temporary health insurance plans will become growingly popular throughout the next several years. ExpertInsuranceReviews.com health insurance expert Melanie Musson urges insurance providers to develop plans to meet this area of growing demand.
Temporary insurance provides an important bridge between traditional health insurance plans. Insurance providers looking to capitalize on a growing market should consider adding temporary health insurance options to their available plans list.
Why Are Temporary Health Insurance Plans Expected to Grow in Popularity?
According to InsuranceNewsNet.com, recently released data indicates projected strong growth for temporary insurance plans.
Healthcare is expensive, and those increasingly high healthcare costs are passed to the insurance providers contracted to pay the claims. Then, the insurance providers' costs are passed on to the consumer through higher premiums.
Many consumers simply cannot afford a traditional health insurance plan. Others may have missed the Healthcare Marketplace open enrollment and need something to shield them from potentially catastrophic healthcare costs. And others may be between employer-sponsored health plans and are looking for a health plan to bridge the gap.
Like in the health insurance industry, temporary auto insurance policies haven't been an option historically. If someone needed auto insurance for a short period, they'd have to purchase a traditional six-month or annual policy, cancel it when needed, and wait for a refund.
But auto insurance providers are starting to offer plans to meet consumer demand, and health insurance providers are doing the same.
How Can Temporary Health Insurance Plans Benefit Providers?
Temporary health insurance plans require providers to assume minimal risk. Since temporary plans do not have to comply with the Affordable Care Act guidelines, they can exclude preexisting conditions, and there is no obligation to cover preventative healthcare at 100%.
Note that even ACA-compliant companies face changing guidelines regarding preventative care.
Short-term plan providers also can price their plans based on age and medical history. This freedom allows them to establish rates to reflect individual risk.
Consumers interested in short-term plans aren't looking for traditional health insurance coverage; they're looking for something to protect them from financial collapse if they experience a catastrophic health development.
Since the risk of catastrophic health problems is low for most individuals, insurance providers can assume that risk without a significant risk of financial loss.
Insurance companies committed to thinking outside the box and growing with society should consider temporary health insurance options to meet the projected increase in demand.
Latest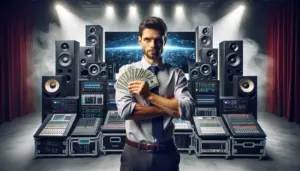 December 8, 2023
Mastering AV sales strategies in a global professional audio-visual (Pro AV) market, poised to reach $79.2 billion by 2028, requires much attention to detail. The surge in demand from corporate, government, and institutional sectors, driven by the need for enhanced productivity and efficient working environments, gives AV sales pros a lot of opportunity. In […]
Read More