Building a Thriving Career in 3D with Shannon Gilley
In the newest episode of "The Creators' Manifesto," Tyler Kern talked to MarketScale's 3D Generalist, Shannon Gilley, about his work with the company and how he got into the field of 3D artistry.
At a young age, Gilley was fascinated with the work he saw in early films like "The Black Hole" and "Star Trek II." When he got to college in the early '90s, there weren't dedicated courses in school for it so he couldn't major in it. He eventually discovered a man who headed night classes and decided to familiarize himself with the field by performing custodial tasks for the potential exposure.
"I was literally sweeping his floors just to try and be in a place where this sort of thing was happening so that I could try to learn because there weren't schools or classes for it," Gilley said.
The experience paid off and Gilley earned an internship where he worked in commercials and gained valuable on-the-job experience for what would eventually become his full-time career. He has had a lengthy career in the field, having produced graphics for courtrooms, television shows, and was the lead modeler for Disney's 1998 animation show, "Rolie Polie Olie."
"3D artistry, particularly 3D animation, has seen many changes through the years," Gilley said. "Much of that change is due to technology." He added that before advancements in computers, work had to be transferred to tapes and shipped out. Today, that can be completed via the internet.
However, while creating and sending 3D content is easier, there is a different quality expected because as "technology has grown, the appetite for sophisticated visuals has grown as well," Gilley stated.
He specifically cited the evolution of 3D animation graphics from the '80s to now, which in turn has resulted in demands for better and more improved 3D work, something he also praised. Gilley noted companies like Pixar that took the helm of most of those demands, which helped shape 3D animation.
Additionally, the continued growth and interest in adult animation is another market that has bolstered the 3D art industry. Other factors that have pushed growth in the industry was, to no surprise, the COVID-19 pandemic. Due to most live-action studios shutting down, 3D animation was a resolve in that gap and Gilley projected more growth in that area.
Gilley's recommendations to people interested in a career as a 3D artists can go to school, learn online, or do both. He added that there are many avenues into the field because by simply watching tutorial videos, skills can be easily developed. But he emphasized collaboration because "working with other people really helps you develop your creative eye," said Gilley.
Latest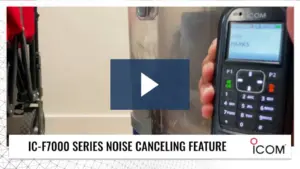 September 27, 2023
In this brief product demonstration video, ICom's IC-F7000 Series receives a mic test of its noise-canceling feature. Through the two demonstrations it is clear the IC-F7000 removes loud ambient noise for clear two-way communication.
Read More