Career Paths Are Rarely Linear
The path for most careers is rarely straight. It twists and turns, depending on many factors. That's the story of Jimmy Jack, Carolinas Sales Lead, Critical Components Inc. Jack's work history has a lot of deviations. Still, he said key relationships with colleagues, mentors, and customers have made all the difference.
"After about 20 years of automotive electronics and car customization, I wanted to make a career change. Computers were a natural transition, so I went back to school," Jack said. He then found his way into the mission-critical data center world, working for Greg Crumpton, who served as a mentor for him.
"When he interviewed me, shook my hand, and looked me in the eyes, he said, 'What I like about you is you've don't al lot of stuff,' and I felt really appreciated for my skillset," Jack commented.
He admitted when he started, he was a bit green, but the more he learned about the industry, the more intrigued he was. He spent late nights at projects to see completions and believes that experience set him up for his current role. He noted, "It's a bit of tribal knowledge and being the same consistent person. Customers I cut my teeth on the industry still remember me."
He shared one anecdote of a data center build that almost didn't happen because they were being outbid. "It was looking like they were going to go with another company, so I went line by line through the proposal and removed about $40,000 they didn't really need. He respected that and cut us a PO," Jack shared.
Relationships and trust are integral to Jack's success, and he's appreciated every opportunity to serve customers, support colleagues, and teach others.

Latest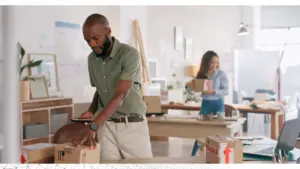 November 29, 2023
While the logistics industry often gravitates toward cutting-edge technology, Wesley Boyce, an Assistant Professor of Practice in Supply Chain Management and Analytics at the University of Nebraska-Lincoln, brings to light the enduring significance of radio communication. In a world enthralled by digital innovation, he argues that the simplicity of radios could be their greatest […]
Read More