Creating Your Unique Platform for Success
The best leaders take many forms. In business, disruptors and enlightened leaders transform organizations. And those leaders rely on leaders within their teams to pull it all together. One such role is an organizational chief of staff. Call them the 'consigliere' or the CEO's confidant; they can play an invaluable role in seeing and realizing the needs of the whole enterprise.
The road to leadership is always an interesting one, and for those trying to find the path, one piece of advice is to create your unique platform for success. And for one entrepreneur, his unique platform includes the chief of staff as a business priority.
Mackenzie Lee, CEO & Chief of Staff Evangelist at Cedar Chief of Staff, created a business model to bring the leadership power of a chief of staff to the business community, which may not recognize the benefits such a role brings to an organization. He visited Manal Keen on Power Up with Manal to share his journey of discovery and why he believes everyone should invest in creating their unique platform for success.
Through Lee's early post-college work journey, he began to see the chief of staff role within an organization as necessary. And these experiences sparked an idea.
"I've been an investment analyst and a defacto chief of staff," Lee said. "I saw the power this role has on the C-Suite, the executive team, and the entire company, not to mention the development path for the chief of staff. And I started to think, how could I build a business around this?"
Keen and Lee discuss the following on the show:
Educating businesses on the benefits of having a chief of staff
The whys and hows of Lee's journey to creating his company, Cedar
Advice for new entrepreneurs
"Start by testing very small ideas," Lee said. "It all starts with an idea, and it starts with you talking about it with one other person and then talking about it with ten other people to refine your idea. And then create a very small MVP for that idea. So, post about it on LinkedIn, Twitter, or wherever you have a following, and see what the reaction might be from your community and your market, and take it from there. Don't be afraid to go through hundreds of ideas."
About Mackenzie Lee
Mackenzie Lee is a Stanford graduate with over a decade of experience serving executives from Fortune 1000 companies, growth companies, and startups, helping leaders solve tricky business problems and quickly driving operational results. He draws from previous experience as a solution consultant mentored by a former McKinsey manager, an investment analyst mentored by an ex-Goldman Sachs Manager, and a Stanford engineer.
Latest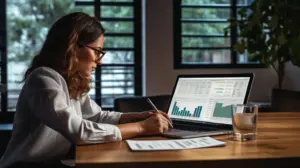 October 4, 2023
The intersection between security and financial acumen often gets overshadowed in a constantly changing economic landscape. While security is essential for safeguarding assets and ensuring continuity, its perceived monetary value is mired in misconceptions affecting company profitability. For many, security is viewed primarily as an expense rather than a potential cost-saver. However, understanding […]
Read More