Enlightened Leadership for the Next Generation of Disruption
Chasing greatness is something many people in their careers strive to achieve. But what does it take to accomplish that goal? Enlightened Leadership for the next generation of disruption means getting out of one's comfort zone to make things happen.
Disruption takes many forms. It happens in the tech world through innovative technologies that change everything from construction to healthcare and paradigm shifts in new approaches to education and learning. Still, for those who yearn to be the future disruptors, enlightened leadership that could pave the way for that type of thinking.
On the latest Power Up with Manal episode, host Manal Keen spoke with Rajeev Kapur, President & CEO of 1105 Media and author of Chase Greatness: Enlightened Leadership for the Next Generation, to gain a better sense of what it takes to create a disruptor mindset.
For those who are struggling for ways to advance and grow in their careers, Kapul offered some simple but sound advice.
"The way you distinguish yourself is, you've got to raise your hand," Kapur said. "Ask questions. It's the simple things that you hear about in your career. It's, be the first one at the meeting, be the last one to leave; be super curious. If you really want to advance in your career, you have to be really curious."
During their conversation, Keen and Kapur discuss the following:
Overcoming challenges on the path to career success
Kapul's book, Chase Greatness: Enlightened Leadership for the Next Generation of Disruption and the value it holds for entrepreneurs
Preparing for the changing world and embracing change
"I'm here to tell you that the CEOs of the future better get on board with the fact that there's a changing climate coming," Kapul said. "And I don't mean climate change. I mean, in the workplace, change, right? With remote work, you have ESG initiatives happening. And you have all those different things, and those are what's important to employees. One of the best ways you can go forward as a leader is you don't have to choose between passion, purpose, and profits. If you focus on having both a bottom line and a focus for your business, as well as a bottom-line focus for the welfare of your employees, you could see a 5-to-7 percent improvement in your EBITDA."
About Rajeev
Rajeev Kapur is a seasoned high-tech executive with broad global experience. He's worked in over 20 countries across the United States, Asia, Europe, and the Middle East. He was recognized as a CEO of the Year finalist for 2011-2012 from Teach America and was a finalist for Entrepreneur of The Year from the Orange County Business Journal. He received his Global MBA from the USC Marshall School of Business in Los Angeles and Shanghai's Jiaotong University Antai College of Business and Economics.
Latest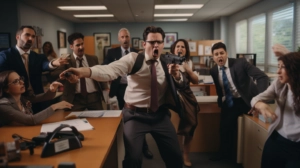 September 21, 2023
Security threats are escalating in this day and age, and the onus isn't merely on reactive measures but proactive measures, too. These are the nuanced approaches that integrate human intuition and robust technology. Because often, the warning signs preceding a major security incident present as complex components that potential attackers leave behind. Spotting these […]
Read More