Rising Care Costs Drive Cloud-Based MedTech Adoption
The cost of U.S. healthcare, which is expected to rise over the next three years according to research from Willis Towers Watson, is pushing care providers to look strategic solutions that make care more efficient without sacrificing patient care outcomes. Cloud-based medtech appears to be gaining steam to help meet patient demand and insulate against future-facing risks.
According to a new report from Research and Markets, the U.S. healthcare facilities management market is estimated to experience significant growth due to an increasing prevalence of chronic conditions, rising healthcare expenditure and the demand for modern and technologically advanced solutions.
Because of this, and because of the cost (and disruption to care) of deploying hardware solutions across an entire hospital system, care facilities are turning to cloud-based medtech solutions, especially ones that improve facility oversight. With an eye for solutions that "improve collaboration among teams and subsidiaries working in various remote locations, lower organizations' operational costs," this cloud-based medtech investment trend is giving the larger healthcare facility management vertical a profitable estimation over the next five years.
On top of this, healthcare providers are citing already-existent technologies needing more interoperability to meet regulatory pressure, patient demand pressure, and the challenges that come from cloud technology that is unsupportive of data exchange. This is further motivating the desire for top-notch cloud-based medtech for healthcare facility management.
Kevin Stevenson, frequent contributor, healthcare administration expert and host of MarketScale's "I Don't Care" podcast, breaks down his thoughts on this trend toward cloud-based medtech, specifically equipment tracking solutions, in healthcare facility management spend, pulling from his hospital's operational strategies and what the industry can learn from this trend in practice.
Kevin's Thoughts
"Just wanna share a little bit of information on my thoughts regarding cloud-based facility management solutions. And this is in regards to devices that are capable of tracking medical equipment in real time.
And so I know for my facility, we are starting to use tags on a wide variety of equipment because, certainly in hospitals, equipment gets misplaced. It gets taken to other departments, it might be put in a closet by someone who doesn't know where it's actually is supposed to be stored. And so with these devices, being able to just take a look on a screen and find those in real time would be tremendously helpful for all of our staff members. It saved them a lot of time in trying to locate the equipment. Oftentimes, if somebody can't find a piece of equipment they put in a requisition to purchase it, and so that's also wasteful as well.
Another aspect of this that I'm particularly excited about is we're going to be tagging all of our wheelchairs. Wheelchairs are the same thing. They float in and out of various departments in the hospital. And we also oftentimes find them outside of the hospital when they're used by patient's family members to take them to their cars or wherever upon discharge.
So I'm really excited about this new technology and I think whenever you're considering that, you need to consider just the amount of equipment that you have, and particularly paying attention to those pieces of equipment that you've had a lot of leakage or just any kind of loss regarding that."
Latest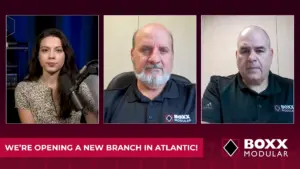 December 4, 2023
In an era where construction innovation is reshaping the industry, modular construction's growth continues to rise. In this episode of Built Modular, Boxx Modular's strategic expansion into Moncton, Atlantic Canada takes center stage. Host Gabrielle Bejarano welcomes Charles Landry and Ray Girouard to explore the implications of this venture. Bejarano, Landry, and Girouard discuss […]
Read More