David Shields and Matt Shields Podcast: Jumping From founder to investor
Entrepreneurs build companies for many reasons, be it innovation, financial freedom, problem solving, among others. Following successful exits, many entrepreneurs naturally become investors. But it's tricky to know when to make the jump from owner to investor. This transition is beneficial for other entrepreneurs. Investors advise on easily avoided mistakes through their experience, awareness, and market preparation.
CEO of Venlo Investments' North American operation, Chris Macauley, spoke about his first entrepreneurship endeavor, his few mistakes, and his successful decision making . Through those lessons learned, he was able to understand how to drive operational efficiencies, became aware of how frustrated he was with working alongside media agencies and was able to start building a technical team for his business.
One of the big driving factors that Chris learned in his transition from founder to an investor is that you can't get anywhere without solid relationships. "The one thing I learned is that leadership is 100% about people."
While learning about people that he needed to work with to drive forward the mission, Chris discovered that there would also need to be a balance between having people there to help with the company's mission while also being passionate about what they're doing. "How do we unlock what people are passionate about?"
Knowing when to make that jump from founder to investor is all about timing, people, and doing the necessary research on whether your product has a viable problem in the market that needs solving.
For the latest news and changes in the business world, be sure to check out our latest podcast episodes where we break it all down.
Follow us on social media for the latest news in real estate!
Latest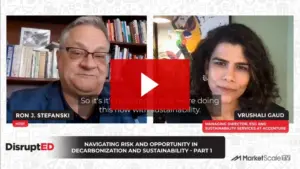 September 26, 2023
The global conversation has shifted dramatically towards decarbonization and sustainability in recent years. With the world experiencing unprecedented levels of disruption, from 5G technology to the challenges of a pandemic, the urgency to address climate change and its implications has never been more palpable. Although most business leaders see the vision of Sustainable Development […]
Read More