Denny Baumgart Created a Legacy in the HVAC Industry and So Can You
The ever-evolving HVAC industry calls for constant learning, with its hands-on nature often attracting those who love solving practical problems. Denny Baumgart, VP of Technical Services for Airtight Facilitech, is a lifelong learner and has pushed himself to grow his skills in the HVAC industry. Baumgart chose the heat and air conditioning path over carpentry, a craft deeply rooted in his family history. His journey reflects the dynamism and entrepreneurial spirit that underpin the sector; starting from scratch with just two trucks, he managed to build a successful company while fostering important relationships along the way.
The undercurrent of his career has been a firm belief in the power of education, both receiving and imparting it. Baumgart's commitment to training the next generation of technicians has been instrumental in maintaining a forward-thinking mindset in an industry heavily influenced by technological advancement. As he approaches retirement, he leaves behind an influential legacy, advising the budding workforce to remain open to the possibilities the HVAC industry offers, and, above all, to "be good." Baumgart has reaped the benefits of a career in the HVAC industry and he hopes the upcoming younger generation can find the work rewarding.
Baumgart tells SkillPointe how his mentorship, hard work, and dedication have left an indelible mark on Airtight Facilitech and the HVAC industry as a whole.
Latest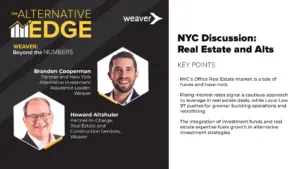 December 5, 2023
Explore the evolving landscape of New York City's real estate and alternative investments with Brandon Cooperman and Howard Altshuler in this insightful episode of Weaver: The Alternative Edge. Dive into the current trends, market forecasts, and strategic growth in the real estate sector. Key Points: NYC's Office Real Estate market is a tale of haves […]
Read More