Deutsche Bank Proposes Work From Home Tax to Support Low-Income Workers
Deutsche Bank estimates the proportion of Americans who worked from home (WFH) during the pandemic surged to 56%, according to a report by USA Today. In response, the bank released a research note suggesting a WFH tax to provide stimulus and subsidies to the workforce that cannot work from home. Researcher Luke Templeman explains, "The sudden shift to WFH means that, for the first time in history, a big chunk of people have disconnected themselves from the face-to-face world yet are still leading a full economic life. That means remote workers are contributing less to the infrastructure of the economy whilst still receiving its benefits."
Marketscale Radio hosts Daniel Litwin and Tyler Kern digest the bank's tax suggestion. Litwin considers whether WFH employees are the class of workers who need to pay up for larger systemic failures, while pointing out the irony of Deutsche Bank's comments after needing federal assistance during the 2008 financial crisis. Kern expands on the idea of who bears the burden of the current workforce landscape.
KEY POINTS:
Government stimulus remains a question mark. Deutsche Bank chimes in with a stimulus suggestion.
DB's report suggests the employer pays the tax if it does not provide the worker with a permanent desk. Otherwise, the employee would pay the tax.
The tax would fund low income subsidies for low-income workers who cannot work from home and take on more health risks in their job.
Latest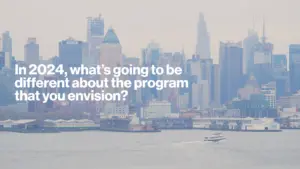 December 1, 2023
In the dynamic telecommunications landscape, Verizon's Partner Network continues to evolve, adapting to new trends and opportunities. For another segment featuring Mark Tina, VP of Indirect Channel Distribution and Channel Chief at Verizon Business Group, he explores exactly what types of significant changes and advancements the Verizon Partner Network will see in 2024. In this […]
Read More