Disrupting Career Paths Through the Journey of Food
A recovering lawyer and politico turned culinary historian, food writer and professional speaker, Adrian Miller may not immediately seem like the correct guest for Sales Disrupters, but host Erik Charles begs to differ.
How does a Georgetown law school graduate go from working in the White House during the Clinton administration to the award-winning author of a book on soul food history? Miller provided answers about his unusual journey and how it's never too late to disrupt a career path for another.
"I had just finished up my stint at the Clinton White House," Miller said. "I planned to move back to my home in Colorado and start my political career, but the job market was really slow."
While browsing the food section of a bookstore one day, Miller came across a book on Southern food written by John Edgerton called "Southern Food at Home, on the Road in History." Mentioned in that book was a statement that stopped Miller in his tracks: the tribute to African Americans' achievement in cookery had yet to be written.
"I reached out to him (Edgerton) because when I picked up the book, it was about 10 years old," Miller said. "I wrote him. and I asked him if, 10 years later, he felt it was still true. And he said, for the most part, nobody's taken on the full story – just parts of it."
Challenge presented; challenge accepted.
The road to completing and selling his first novel was not a simple one. It took a lot of work and research, and, throughout the process, there was always the concern that by telling people about his project, someone might lift Miller's idea.
But Miller wasn't shy about telling people about his book.
"People respond to you when you share your dream," Miller said. "I can't tell you did stuff for me just because I told people what I was working on."
At a speaking engagement at a gathering of the Southern Food Alliance, Miller's book project caught a publisher's attention, and that is how "Soul Food: The Surprising Story of An American Cuisine, One Plate at a Time" went from idea to reality. Sometimes, a little disruption is what it takes to transform a career into a dream job.
Follow us on social media for the latest updates in B2B!
Twitter – @MarketScale
Facebook – facebook.com/marketscale
LinkedIn – linkedin.com/company/marketscale
Latest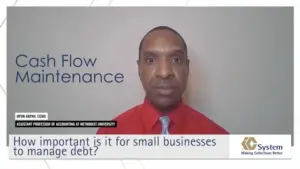 December 8, 2023
Effective debt management through a robust accounts receivable system is essential for small business cash flow and growth, necessitating automated payment schedules and strategic policy adjustments. Collaborating with a collection agency as a strategic partner can enhance revenue recovery while preserving positive customer relationships. How critical is effective debt management for the financial health […]
Read More