Employee Push to Work From Home is Fueling the Office Debate
Rachel Neill, entrepreneur and co-founder of Carex Consulting Group and Figgy, shared her thoughts on the great office debate. The clear preference from employees is to embrace the flexibility provided by hybrid and remote work setups. A survey from McKinsey says that when people have the chance to work flexibly, 87 percent of them take it.
Rachel's Thoughts:
We're going to also see an impact on companies that are now requiring workers to go back into the office. I think that this is gonna come to a head because these workers are going to also potentially need to care again for family members. So we're gonna see, I think, a continued push for people to want to stay remote.
Latest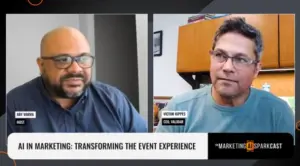 November 28, 2023
AI has been gradually changing the landscape of event technology at a very rapid pace. In an industry where staying ahead of technological trends is crucial, AI's impact on marketing and event management has become increasingly significant. As witnessed in the rise of account-based marketing and enhanced personalization, AI is effectively reshaping how events […]
Read More