Exploring US Consumer Payment Trends and the Resilient Demand for Cash
The Federal Reserve System's FedCash® Services has disclosed the findings from its 2022 research into the payment habits of US consumers, suggesting enduring trends established during the pandemic.
Key findings from the survey reveal a slight decline in cash payments, accounting for 18% of all transactions. On-person cash holdings witnessed a $5 increase from 2021, with the average consumer carrying $73. Store-of-value holdings also saw a modest increase, with a typical value of $418. In contrast, the share of in-person and P2P payments held steady at 81%.
Demographics play a significant role in payment preferences. Older consumers, for instance, use cash more frequently than their younger counterparts who prefer debit cards. Households with income less than $25,000 relied heavily on cash, constituting 36% of their transactions. Meanwhile, wealthier households earning more than $150,000 favored credit cards for half of their payments.
Interestingly, despite decreased cash usage among the younger generation (18-24 years), this group saw a significant increase in cash holdings. The results demonstrate a persistent demand for cash, highlighting its role as a reliable backup payment method and a store of value during uncertain times.
Due to its widespread popularity among certain demographic groups and its status as an option for contingency payments, ongoing investment is crucial in maintaining cash accessibility. Bill Budde, VP, of Banking Strategy and Solutions at Nautilus Hyosung America gives his perspective on what stood out to him in these reports.
Bill's Thoughts:
"One of the things that stood out in these reports is the steady volume of in-person payments. Despite the pandemic, which led to a rise in online purchases, the data show a persistent demand for in-person buying. There are many experiential aspects to consider in order to maximize the customer experience during in-person transactions. The better the experience, the more likely customers are to repeat it, thus enhancing customer loyalty and market share.
Furthermore, the reports showed continued strong use of cash. While the proportion has decreased due to an increase in credit and debit card payments, cash transactions still account for about 18% to 19% of the total volume. Despite an expected dip during the pandemic, this rate has held steady over the last three years. This means a significant operational load on banks, retailers, and any businesses that accept payments. A large portion of these payments are made in cash, necessitating counting, reconciliation, storage, sorting, and daily deposits into the bank. Therefore, managing this large volume of cash as efficiently and effectively as possible is crucial for any business that accepts cash payments."
Latest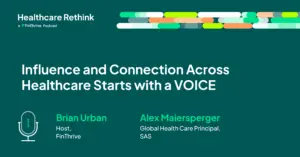 September 29, 2023
In the latest episode of the Healthcare Rethink podcast, presented by FinThrive, host Brian Urban sits down with Alex Maiersperger, the Global Principal Healthcare at SAS. Their conversation charts the role voice plays in influencing and connecting the healthcare industry. Maiersperger, who co-founded the Advancement League, shares his journey from being a healthcare optimist to […]
Read More