Fintech Veteran Weighs In on the Three-Day Work Week
Key Points:
Bangalore startup Splice is workshopping a three-day work week with salaries at 80% the going market rate.
Various studies show increased validation for a shorter work week, from public acceptance in the US to successful experiments in Iceland.
Can a shorter work week gain steam in the fintech industry? If so, does this validate it across the entire economy?
Commentary:
In Iceland, a 2021 study of Reykjavík City Council's four-day work week for public workers was a success by most metrics, with less burnout, no drops in pay, and consistent or increased productivity. This being one of the most recent validators of a shorter work week now has the dream on the mind of many workers, even in the US. A July study from YouGov found Americans overwhelmingly would prefer to condense the forty hour work week into four days.
One fintech startup is trying to push the mantle even further, eyeing a three-day work week to entice new hires and set a new work-life balance standard. This poses a number of questions for the traditional work week and work model. Would privately employed workers face different standards than public works? And more directly, does the fintech sector somehow pose a particular opportunity for rethinking work models?
We sat down with Khalid Parekh, Founder & CEO of Fair Banking, a veteran of the fintech sector, to give his perspective on the intersection of shorter work weeks with the industry. Scroll down for his insights on various of the most important consequences of this work-life shift.
How do business models, particularly in fintech, need to adjust to remain sustainable while operating shorter work weeks?
"Due to the nature of a shorter work week, optimizing efficiency, we will be at the forefront in how teams and organizations operate. Prior authorization of initiators would need to take precedence as well to ensure maximum effort is employed to complete tasks. Additionally, accomplishing established goals and objectives with intention. We will also create a more efficient work environment."
Is this business model somehow uniquely useful in the fintech sector?
"The answer is from our opinions is this model could prove useful in other sectors as well, particularly those who conduct business in a remote online setting. Giving companies all the advantage of maintaining a presence online, while a shorter workweek clearly offers employees a better work-life balance. You know, customer service support requires a 27 monitoring process. This could mean hiring additional employees on a rotational basis so that everyone has a speedier workweek. Fintechs would have to conduct a cost analysis to determine if the cost outweighs the shorter workweek."
How will strategies differ for government workers vs. privately-employed workers?
"In our opinions the biggest difference between government workers vs. privately-employed workers is government workers are paid with tax dollars and private employees are paid with business profits. This means that private employers would have to work with together to find better business models that bring forth higher profits and make budget cuts in areas that offered convenience but now act as a burden."
Will corporations adopt a shorter work week without economic pressure from workers, like organized labor and strikes?
"If a shorter work week means less pay, most employees would say no thanks. One thing to keep in mind is bills must still be paid in full. Many businesses in the United States are built on a 40 hour, 5 day work week and under a 3 day work week many businesses would shutter. For instance restaurants and cafes that serve the business community would see less traffic because its a shorter work week creating a negative economic impact."
Latest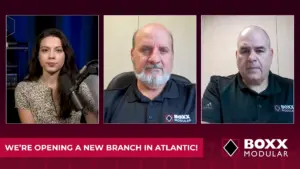 December 4, 2023
In an era where construction innovation is reshaping the industry, modular construction's growth continues to rise. In this episode of Built Modular, Boxx Modular's strategic expansion into Moncton, Atlantic Canada takes center stage. Host Gabrielle Bejarano welcomes Charles Landry and Ray Girouard to explore the implications of this venture. Bejarano, Landry, and Girouard discuss […]
Read More