Five Key Questions for Board Meetings
As public companies conduct spring board meetings, no topic looms larger than the effects of the coronavirus pandemic and how it is transforming the global economy.
The way your organization's leadership navigates this period of change is likely to determine its overall health once things settle into the "new normal."
At Weaver, we are committed to ensuring that you are empowered to lead your organization to the best of your ability. We provide the information and insights you need to thoroughly prepare for your next board meeting, ask the right questions and determine appropriate plans of action based on the most critical unfolding topics and trends.
The following five questions can help guide your next board meeting so that you can respond to rapidly changing events in a productive and thorough way.
1. Do we have a plan for financial disclosures related to the effects of COVID-19?
The SEC has encouraged registrants to disclose the effect of the COVID-19 pandemic on their financial results. Regulatory relief is available for companies impacted by the coronavirus, but companies must file certain forms to qualify. SEC guidance for public companies also addresses disclosures surrounding changes to annual shareholder meetings and more.
2. Are we prepared for current and future supply chain disruptions?
Your supply chain is likely to have been affected by COVID-19. Whether or not you were prepared, now is the time to thoroughly assess possible lingering impacts, prepare for the likely economic downturn to come and agree on a plan to adjust to future disruptions. Find potential alternatives and develop creative and cost-effective ways to map your supply network. Take the pandemic into account when evaluating supplier performance and be proactive when planning for the future.
3. Are our IT systems secure?
Are you doing enough to protect your operations from cyber threats? Bad actors aren't sympathetic to the stressors placed on your organization or business by the spread of COVID-19. In fact, they're stepping up their efforts to try and take advantage of the chaos.
As remote work requirements rise and your incident response processes are strained, other factors like pandemic-specific phishing campaigns and more will further test your employees and your overall preparedness. Here are eight CIO considerations to take into account as you review your preparedness.
4. Are we considering ESG reporting in our reporting and planning?
Environmental, social and governance (ESG) reporting shows investors that your company is taking these issues into account and playing an active role in bringing these initiatives into their core strategies. If you do not disclose and communicate these efforts, your company will not be positioned to take advantage of potential future benefits for growth, access to capital and more.
Are you aware of market-driven ESG reporting frameworks that can ensure you're communicating effectively? Is your board equipped to assist your company in better addressing ESG issues and taking advantage of accelerating ESG investing?
5. Is our business continuity plan up to date?
Determine how you'll respond to COVID-19 at every level, accounting for staff absences and leave, employee education, the capabilities of your remote-oriented operations, public relations factors and more. Be sure to communicate this information through as many channels as possible to your workforce, shareholders and customers.
Weaver offers information and insights to prepare for your next board meeting. We can help you ask the right questions and determine appropriate plans of action based on topics and trends as they unfold. Subscribe to our monthly insights for articles and information to help you review your organization's operations and prepare for change in an uncertain world.
Latest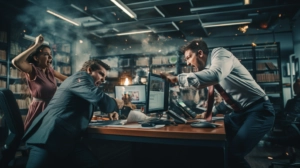 September 22, 2023
The kind of news that is delivered everyday serves as a grim reminder of the escalating violence across the U.S. Evidently, the need for proactive measures to ensure safety has never been more pressing. Such violence is not limited to any particular locale. It's actually permeating in so many different areas once considered […]
Read More