How Construction Companies Can Increase Profitability Through Cash Flow
Traditional lending for small businesses leaves much to be desired. For one, it is expensive. Businesses such as construction companies rely on loans to complete projects as they are required to invest capital upfront to order supplies. Business lines of credit from traditional banks or credit unions charge interest rates ranging from 3% to 25% APR. Zaid Rahman, Founder, and CEO at Flexbase and General Partner at 305 Ventures know of some construction loans that charge 2% per/week for 60-day loans for a total of 16%.
These loans significantly impact a business's ability to make profits. This is true for many small businesses. Restaurants must buy ingredients and logistics companies pay for fuel for example and it can take weeks before receiving a payback on the investment.
"So, pretty much every company needs working capital in order to grow fast. Otherwise, they are using their own cash, which might be limited, which is why you see most of these small businesses stagnating – staying where they are, not growing beyond a certain point," explained Rahman.
Traditional Lending Models Fail Small Businesses
Securing capital through traditional methods can be extremely difficult for small businesses. The methods used are outdated with stringent regulations attached. Traditional lenders also tend to use a business owner's credit score as part of the decision-making process which isn't necessarily indicative of a business's potential to be profitable. Additionally, these loans are considered riskier since the probability of becoming delinquent is much higher.
According to the U.S. Bureau of Labor Statistics, 20% of small businesses fail in their 1st year with 50% failing to make it to year five. CB Insights conducted research on 111 start-ups that failed which identified funding as the number one reason for a company to fail. A total of 38% of businesses failed because they "ran out of cash" or "failed to raise new capital."
Changing the Way Working Capital Works for Businesses
There are creative ways that companies can help revolutionize lending for the construction industry, such as providing higher lines of credit than traditional lenders. As a prime example, Rahman's company Flexbase approaches alternative construction-industry financing by looking at not only business owners' unique operational attributes but also businesses' credit history.
"We're looking at what their cash flow is going back five years. We're trying to analyze their future revenues and hundreds of other factors such as what industry they are in and which region they are in. Is the region growing fast? Is the industry growing fast?" said Rahman.
Rahman says that in addition, his company offers free working capital for 60 days and as long as it is paid back in full, clients pay zero dollars in interest, which is "kind of a game changer if you want to grow fast."
Latest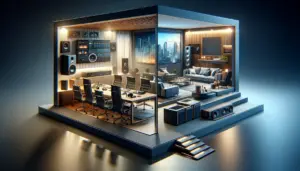 November 27, 2023
In this episode of "Pro AV Today," host Ben Thomas sits down with Audra Kinsley of Sonos Professional to unpack a topic that's causing (sound) waves in the audio industry: the fusion of commercial and residential audio systems. As we navigate through a landscape where consumer and professional audio worlds are increasingly intersecting, Sonos steps […]
Read More