IC System Breaks a Record at Charity Golf Tournament
St. Paul, MN, July 18, 2022 – IC System hosted its annual Charity Golf Tournament at Tanners Brook Golf Course in Forest Lake, Minnesota, on Friday, July 15. Now in its 24th year, the event brought IC System employees, vendors, and business associates together for a day of course games and friendly competition for a good cause. This year, the tournament broke its record for charitable donations.
Every year, IC System tries to out-perform the previous year's contributions. The 2022 tournament established a new precedent, raising over $30,300 for several charities. Over the last 24 years that IC System has held this event, its golfers have helped raise about $180,000 for worthy causes.
The 2022 charities consisted of four of IC System's longtime causes. A Soldier's Child Foundation helps the children of fallen military personnel. Feed My Starving Children packages and distributes food to children in need in over 70 countries worldwide. The American Cancer Society is a nationwide organization committed to ending cancer. Last but not least, The Ronald McDonald House supports various programs that directly improve the health and well-being of children.
IC System donates to these charities all year round, but the annual Golf Tournament is the biggest single contributing event.
Besides golf, players had other ways to raise funds for these worthy causes. Every few holes featured a pay-to-play course game that helped raise funds for each charity. Players could Chip for Charity, participate in the Bag Toss Challenge, or compete in the Minute to Win It cup contest.
"We had an amazing tournament," said Rocky Bzdok, IC System's Compliance Assurance Specialist and one of the tournament's organizers. "We were very fortunate to have good weather, generous players and sponsors, and a great time golfing. IC System is proud to support this event, which truly impacts the organizations that support our communities. Of course, we could not do this without all the support we get from our vendors and employees."
About IC System
IC System is one of the largest receivables management companies in the United States. In business since 1938, IC System is a family-owned, privately held accounts receivable management firm in its third generation of family ownership. IC System provides customized debt recovery solutions for healthcare, dental, small business, government, utilities, financial services, and telecommunications industries on a nationwide scale. Follow IC System on Twitter at @icsystem or on Linkedin.
Latest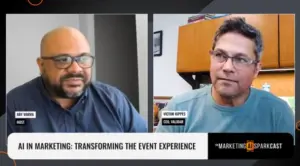 November 28, 2023
AI has been gradually changing the landscape of event technology at a very rapid pace. In an industry where staying ahead of technological trends is crucial, AI's impact on marketing and event management has become increasingly significant. As witnessed in the rise of account-based marketing and enhanced personalization, AI is effectively reshaping how events […]
Read More