In Effort to Abide by China Plus One Strategy, Tech Companies Have Their Sights on Vietnam for Manufacturing
Several tech companies are applying strategic moves to diversify its manufacturing operations from China to other countries, like Vietnam. This signifies a broader shift in the tech industry's global supply chain. While Vietnam has traditionally been considered a hub for low-tech electronic manufacturing, it's quickly becoming an option for more sophisticated production needs. This pivot is attracting tech giants like Apple attracted to lower costs and Vietnam's other economic advantages. 
But the story is far from a clean break. China's robust infrastructure and skilled workforce mean that China Plus One isn't about substituting China. It's also about supplementing it. As countries and companies navigate this new terrain, there are several challenges that must be tackled. Overall, even with Apple's strategy of geographically diversifying its supply chain is welcomed, a full-on migration away from China is not exactly feasible given the manufacturing ecosystem
Hamid Noori, provides invaluable insights into this fascinating development. He serves as the Executive Director of the Lazaridis Executive Master's in Technology Management Program at Wilfrid Laurier University. With an extensive background in technology management and international business, Noori's knowledge shines a light on the future directions of the technology manufacturing landscape, and how Apple is one of the tech companies leading this charge.
Noori's Thoughts on Manufacurting Vietnam
Apple's Shift to Vietnam for Manufacturing
"Apple is slowly shifting its device assembly processes to factories in Vietnam to minimize its reliance on China. And then, of course, it has started to do the iPad production, to move the iPad production to Vietnam from China and start manufacturing watches and MacBooks."
JPMorgan's Forecast on Apple's Manufacturing
"JPMorgan forecasts that the percentage of Apple products made in China will drop from 95 percent to 75 percent by 2025."
Why Vietnam is Favorable for Manufacturing
"Now, the reason that Vietnam is becoming one of the favorable target for these manufacturing companies, giant manufacturing companies such as Apple, is because of the, of course, low labor costs. And then the free zone economies that they are promoting quite extensively."
Apple Encouraging Contract Manufacturers to Move
"And not only Apple is moving, you know, strategically moving to Vietnam, its contract manufacturers also are encouraged and in some cases perhaps asked for to move to Vietnam. Pegatron, LuxShare, Wistron, these are expanding their production facilities in Vietnam as Apple is moving out of China."
The Continued Role of China in Supply Chain
"But, you know, one thing that I have to be careful here, and that is when we are talking about moving out of China, to me, it is almost impossible to assume that these big companies are going to forget about China. China still has a very, very strong supply chain system, a very knowledgeable workforce."
Challenges in Moving Operations to Other Countries
"There are challenges moving operations to other countries. Not only it's exclusive to China plus one, but any time that any country, any company wants to move to its operations from one country to another country, there are a number of challenges that must be met. For example, labor skills and availability, understanding of custom processes and government regulations, warehouses, space and services, freight capacity, supply of inbound materials, transit times and so on and so forth."
Latest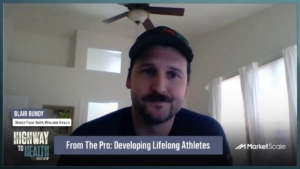 September 20, 2023
Blair Bundy, the Director of Player Health for the Milwaukee Brewers, recently shared his insights on the importance of nurturing lifelong athletes from a young age. He emphasized that the ultimate goal for children participating in sports is not just about winning games but about fostering physical and mental resilience. Such individuals lessen the strain […]
Read More