Increased Billing Disputes from No Surprises Act Set a Foundation Resolutions Between Insurers and Providers
If you're unfamiliar with the No Surprises Act, you're probably not a hospital or insurance provider. As the Act came into effect at the beginning of 2022, patients have reaped significant cost savings with more transparent billing for medical services. But according to Chief Healthcare Executive, "hospitals and doctors say key provisions of the law are unfairly benefitting insurers, and are hurting providers."
Fierce Healthcare reports that "House lawmakers are calling for the Biden administration to make provider-friendly changes on a final rule implementing the No Surprises Act, saying it doesn't follow the law's intent," because the "rule tilts an independent arbitration process in the favor of insurers."
But the House of Representatives may need to give this situation time to develop. According to Melanie Musson, insurance expert with Clearsurance, whereas dispute resolution has traditionally been a last resort, it is currently being used as a primary resolution because disputes are increased by a factor of 10x since the law came into effect. Over time, she expects the number of disputes to regress to the mean as standards for speedy resolution are developed and a foundation is created for the future.
"As with anything, when it just starts, there's a learning curve for all involved parties and that learning curve is showing itself in the dispute process. And while this act anticipated a pretty high number of disputes, there have been 10 times what was anticipated. So that's where the insurance provider through this process can dispute what a medical provider charges.
So instead of just doing it however they had worked it out in the past, now there's an official process to go through. And so as you can expect with anything that is experiencing 10 times the volume of what was planned for, there's some frustrating times. It's gonna probably take a while to come to resolutions, but it's worth working through right now because all this early this early dispute resolution process will set the foundation for the future so that when an insurance provider comes across something similar, they have something to look back on.
And so instead of having to go through the dispute process, they can say, 'this is how it was resolved last time, let's skip the process and medical provider, you need to meet us here because this has been proven to be the way that it was resolved in the past.'
The whole point of the dispute resolution process is for as a last resort, and so right now it's being used almost as a primary resolution, but as the foundation is laid, it should become more of a last resort and insurance providers can look back on how disputes were resolved before.
Latest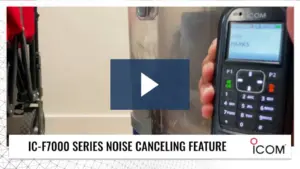 September 27, 2023
In this brief product demonstration video, ICom's IC-F7000 Series receives a mic test of its noise-canceling feature. Through the two demonstrations it is clear the IC-F7000 removes loud ambient noise for clear two-way communication.
Read More