Mental Health Awareness Month | Hear Aashik Khakoo's Journey as a Courageous Leader
Mental Health Awareness Month is an opportunity for us to reflect on the challenges we face in life that impact our mental health and well-being. In the latest episode of "PowerUp with Manal," Aashik delivered an awe-inspiring message that ignited a profound shift in perspective. Through a deeply personal story, he emphasized the transformative influence of positive thinking when faced with life's formidable trials. Prepare to be captivated by this thought-provoking conversation.
Aashik recounted a heartwarming incident involving his son's poignant remark: "You're changing lives." This seemingly simple statement held a profound truth—the power of positive thinking. It urged us to redirect our focus from the adversities that beset us and instead concentrate on the positive impact we can generate. Aashik, a luminary who has catalyzed change as the former CEO of Wipe Out Kids Cancer, serves as an embodiment of this ideology.
Key Points of Conversation:
● Discover the uplifting tales of Aashik's personal journeys and how he surpassed life's challenges to achieve triumphs in both his professional and personal pursuits, all the while cherishing his mental health and overall well-being.
● As leaders, it's crucial to prioritize values like transparency, empathy, and compassion to cultivate a community that is supportive and compassionate towards each other.
● The relationship between mindset, mental health, and navigating life's challenges; emphasizing the power of positive thinking and self-reflection.
Positive thinking, however, does not imply turning a blind eye to our challenges. It demands acknowledging and embracing them, seeking solutions with unwavering determination. Aashik candidly shared his personal journey through a period of unemployment, demonstrating the remarkable strength found in acceptance and resourcefulness. This invaluable lesson resonates deeply, calling on each of us to learn and grow from life's tribulations.
In a world saturated with information and often engulfed in negativity, Aashik underscored the significance of fostering comfort and cultivating a sense of community. By engaging in open, candid conversations, we dismantle the stifling stigma surrounding mental health and other demanding topics. Aashik and Manal, as torchbearers of change, are at the forefront of breaking down these barriers, constructing a society that embraces positivity and acceptance.
Let us all draw inspiration from their unwavering commitment to transform lives. In a world teeming with challenges, Aashik and Manal urge us to embrace a mindset that emboldens us to triumph over adversity and effect positive change. Together, we can chart a path towards a brighter, more compassionate future.
Latest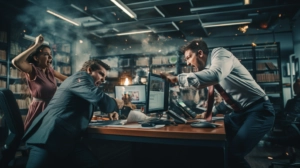 September 22, 2023
The kind of news that is delivered everyday serves as a grim reminder of the escalating violence across the U.S. Evidently, the need for proactive measures to ensure safety has never been more pressing. Such violence is not limited to any particular locale. It's actually permeating in so many different areas once considered […]
Read More