One Ship, a Worldwide Crisis: How Can Supply Chains Get Unstuck?
Data drives decisions of the worlds largest companies but in a world with constant data, how do you make sense of it? Host TC Riley, puts the world under the lens of data and analytics and explores current news, B2B trends, and popular topics.
The Ever Given will go down in infamy, and not in a good way. Its blockage of the Suez Canal further crippled supply chains already at their breaking points due to the pandemic. How could one incident have such an impact? It's all clear when diving into the data, and that's what host TC Riley does in this episode.
"You can't underestimate the importance of the Suez Canal to global trade. It cuts 3500 nautical miles and around nine days off the trip between Asia and Europe," Riley said. The number of shipments that pass through it every day is incredible. Over 1,000,000 barrels of oil and 8% of the world's liquified natural gas go through it daily. During the debacle, the media went in on the economics, most saying it cost the world billions.
The reality may look a little different. "It was a significant shock to global trade, impacting many businesses, but these numbers are drastically blown out of proportion," Riley explained. It's more likely that the true economic consequences won't be known for some time. Riley called it "an excellent example of data not being incorrect but applied inappropriately."
While this is an extreme example, businesses do this all the time. So, what's the real impact? What experts can say is that it affected operating costs for shipping companies, primarily in fuel costs. Another area is insurance premiums, as insurance companies were hit hard by the blockage. For the consumer, it may be negligible or show up in temporary oil price increases.
"The biggest takeaway for me is the impact that global supply chains have on so many businesses and how fragile some of those chains are," Riley remarked. The data won't be in for some time, and that's the story with most global emergencies. It's a good reminder to take in the entire picture that data paints before drawing finite conclusions.
Latest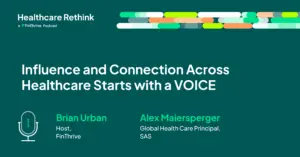 September 29, 2023
In the latest episode of the Healthcare Rethink podcast, presented by FinThrive, host Brian Urban sits down with Alex Maiersperger, the Global Principal Healthcare at SAS. Their conversation charts the role voice plays in influencing and connecting the healthcare industry. Maiersperger, who co-founded the Advancement League, shares his journey from being a healthcare optimist to […]
Read More