Online banking trends and the future of physical branches
Digital marketing trends increased user adoption of online banking, especially during the pandemic. Bank users sought out safe ways to use their financial institutions. These institutions pivoted through a lot of changes forced by the pandemic, and many of those were online. 
This leads to the question: Is there still a role for the physical branch? 
Here to give insights on this episode of the Experience Evolution is Nick Barnes, Practice Director of Financial Services at JRNI, and Sean Jones, Sr. Assistant Vice President of Marketing & User-Experience at Redstone Federal Credit Union. They talked about trends they see impacting banking today, both online and in the branch.
With online banking already transforming the industry, the ongoing COVID-19 pandemic dramatically increased adoption. At the beginning of the pandemic, users couldn't physically go into a bank, so they quickly adopted online practices. 
"I think at the start of the pandemic, many members and customers wanted to be as safe as possible," Barnes said. "It's why we've seen digital transformation skyrocket so quickly. Now that we're 18+ months into this, I think everyone is looking for options to continue to bank safely."
With customers leaning toward online options, banks saw the use of their ITMs and ATMs skyrocket. But, that doesn't mean users aren't going into the bank when they need to, and banks have kept traditional in-person options while creating online video meeting options. 
"We've seen a significant increase of ITMs," Jones said, "which is our interactive teller machines. That allows members to do all their banking without needing to come into a branch. And then obviously there's been a significant explosion in the volume of mobile banking and digital banking that's taking place."
Banking appointments are another trend Jones said Redstone Federal Credit Union experienced during the pandemic. Bank customers are more efficient with their visits to the bank
"What we're seeing is individuals, if they choose to come into a branch, they're doing it in a more streamlined fashion," Jones said. "They want to come in, take care of their business, and move on with their day."
Latest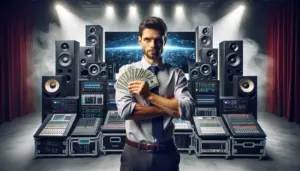 December 8, 2023
Mastering AV sales strategies in a global professional audio-visual (Pro AV) market, poised to reach $79.2 billion by 2028, requires much attention to detail. The surge in demand from corporate, government, and institutional sectors, driven by the need for enhanced productivity and efficient working environments, gives AV sales pros a lot of opportunity. In […]
Read More